Japan's First 3D-Printed House for Two Person Household serendix50 A new milestone toward the release of a 30-year mortgage loan
Steel-framed 1LDK (50m2) type completed in 44 hours and 30 minutes in Komaki City, Aichi Prefecture
Serendix Corporation (Headquarters: Nishinomiya City, Hyogo Prefecture; President: Hiroyasu Koma) announces the completion of serendix50, Japan's first 3D printed housing for two-person households, in Komaki City, Aichi Prefecture, on July 25, 2023.
In May 2023, serendix completed the Saku building, which is the first 3D printer facility for commercial use as well as the first building for general sales.
The serendix50 (Fujitsubo model) was developed by the Keio University KGRI Center for Design and Digital Manufacturing in response to the many requests from couples in their 60s and older for a 3D printer house for their final home. (Representative: Hiroya Tanaka, Professor at Keio University SFC) as a joint project. (headquartered in Kumamoto Prefecture), Hyakunen Housing Corporation (headquartered in Shizuoka Prefecture), and Nabeju Corporation (headquartered in Gunma Prefecture), and was completed in just 44 hours and 30 minutes.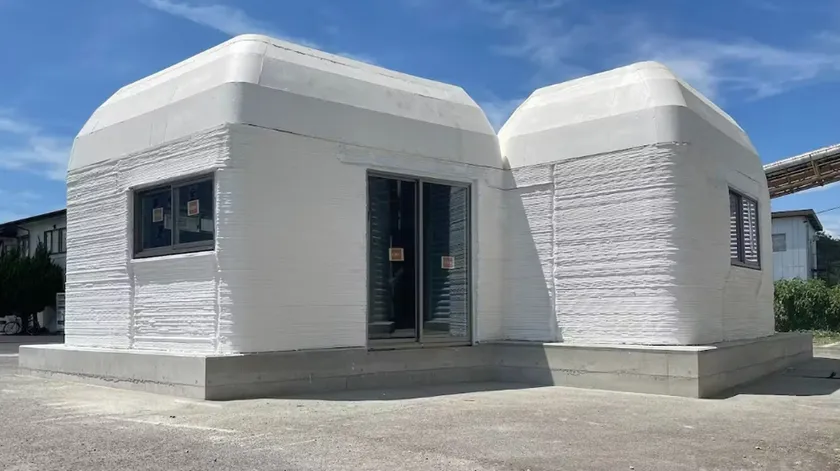 serendix50 (Fujitsubo model) details
Structure :Steel frame + reinforced concrete, flat roof
Housing development entity : serendix
Outline design and concept : Keio University KGRI KAN Design &
           Digital Manufacturing Creation Center
Execution Design : Eimu Masuyama
           (Associate Professor, University of Miyagi, Senior Research Fellow, Keio Research Institute at SFC, Keio University)
Structural Design: KAP Inc.
Total floor area : 50m2
Maximum height : 4m
Location : Komaki City, Aichi Prefecture, Japan
           Estimated sales price : 5.5 million yen
Three housing challenges addressed by serendix50 (Fujitsubo model)
Based on the vision of "enriching humanity with the world's most advanced homes," Serendix is developing houses that "can be bought for the price of a car" through robotic construction. With the goal of realizing a life free from mortgages, Serendix is working with more than 205 companies in an open consortium to solve housing issues in the three areas of technology, housing, and price. The serendix50 combines two new digital fabrication technologies: the frame is output by a 3D printer based on digital data that has been verified for comfort and safety performance, and the roof is formed by a CNC cutter based on the digital data. Furthermore, we aimed to complete construction within 48 hours, and we achieved this goal. After conducting safety tests, we plan to begin pre-sales of a limited number of six buildings.
1. technical aspects
Compliance with the Japanese Building Code
Construction can be completed within 48 hours.
3D printer housing with a single material and multiple functions for most of the components, greatly reducing the amount of human work required.
2. residential aspect
50 square meters in area
One-story, single-floor house with high ceilings and comfortable interior
Guarantee of structural strength, fire resistance, water resistance, and thermal insulation. 3.
3. price
Aiming for a selling price of 5 million yen, which is 1/10 of a typical house price and enough to buy a car.
Comments from construction partners
Yu Nakajima, President of Hyakunen Jutaku (Head office: Shizuoka City, Shizuoka Prefecture)
The realization of a 50m2 single-story 3D printed house that can be lived in by two people will revolutionize the housing industry. We will do our utmost to provide a better home for more people without being bound by conventional wisdom.
Kenichiro Watanabe, President of Nabeju Corporation (Head office: Ota City, Gunma Prefecture)
We have finally completed the construction of the 50m2 Fujitsubo, a house made with a 3D printer. The finished product is excellent, and I feel that this will change the world.
Shiro Nagata, President of Tateo Densetsu Co.
Shiro Nagata, President of Tateo Densetsu Co. We will face the challenges and do our best for a sustainable future."
Comment from COO Iida, Head of Sphere Division
"Complete robotization of the housing industry.
Until now, houses were haute couture (craftsman-dependent) and it was common for them to cost tens of millions of yen.
In the automobile industry, the price reduction of products by "innovation of manufacturing process" using robots started 40 years ago. 3D printed houses are the beginning of "complete robotization of the housing industry".
The existence value of a startup is "problem solving," and we want to break through the current environment of 30-year mortgages with an average payoff time of 73 years and 40% of the Japanese population unable to own a home for the rest of their lives.
We are proud that we are able to take innovative approaches that existing businesses are unable to take because we are a highly agile start-up. We will develop disruptive innovations on a "zero" basis in consortium with many companies that support us.
Buying a House for the Price of a Car: Serendix's Vision for the Future
Serendix was founded in 2018 with the philosophy of "enriching humanity with the world's most advanced homes. In March 2022, serendix successfully completed construction of serendix10 (Sphere 10m2 model), the first 3D printed house in Japan, in Komaki City, Aichi Prefecture, in 23 hours and 12 minutes. The success was reported in 59 media in 26 countries around the world.
Since then, the number of reservations and inquiries for 3D printed houses has already exceeded 3,000, including consultations in Japan and overseas. In order to speed up the development and spread of 3D printers, a large-scale 3D printer capable of outputting up to 100m2 for ordinary houses will be introduced in December 2022.
Recently, the company was selected for the Expo '70 Project Creation Support Program for its advanced business activities, and was also selected as a supporting company in a near-future animation depicting Japan's next-generation race.
In March, 3D Printer was selected for J-Startup, a startup support program established by the Ministry of Economy, Trade and Industry to create unicorn companies from Japan, and is accelerating its business in the real world.
https://www.meti.go.jp/press/2023/04/20230411005/20230411005.html
■Serendix Corporation https://serendix.com
Representative Director : Hiroyasu Koma
Date of establishment : August 3, 2018
Capital : 256,400,000 yen (including capital reserve)
Head office: 1-1, Koyoen-mekamiyama-cho, Nishinomiya City, Hyogo Prefecture, 662-0011, Japan
Sphere Laboratory: 749 Tsukada, Amase-cho, Hita City, Oita Prefecture, 877-0113, Japan
Administration Department: 2-1-26 Jonaidori, Nada-ku, Kobe, Hyogo 657-0836, Japan
Business : Design and sales of houses by the world's most advanced Next House 3D printer construction
        Design and sales of 3D printed houses