Giraffe Planning, which provides booth decorations and other services for exhibitions, Giraffe DOGA," a video proposal and production service Giraffe DOGA," a video proposal and production service specialized for exhibitions, has been released.
2D to video service to quickly create PR videos based on panels and flyers
Giraffe Planning Corporation (headquartered in Mihama-ku, Chiba City) released "Giraffe DOGA," a video proposal and production service specialized for exhibitions, on September 12, 2023. This is the first attempt in the industry. *According to our own research

Giraffe DOGA: https://giraffe-planning.jp/giraffedoga
■Exhibition professionals propose and produce PR videos that serve as eye-catchers at exhibitions
However, due to the division of labor in the industry, the booth decoration and video production companies (teams) are basically separate, and there are many cases of companies abandoning the idea because they cannot come to an agreement on (1) brand strategy, (2) schedule, and (3) cost. Giraffe DOGA is a video proposal and production service that solves these three problems.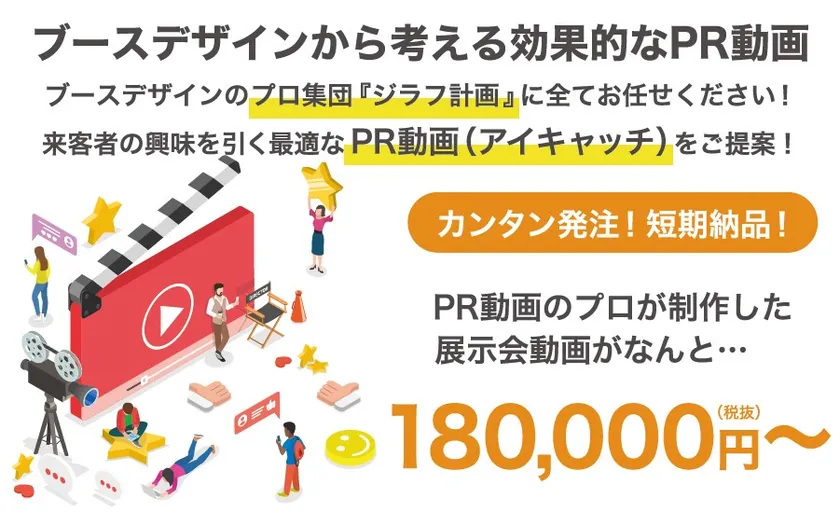 ■Unification of booth and video branding
Giraffe DOGA is produced and produced by Giraffe Project, a highly professional booth design company, which also produces PR videos. This allows us to align the booth and video tonmana, making it possible to create a brand strategy with a consistent concept and atmosphere.
■Produce animated videos from 180,000 yen in as little as 5 days
Most budgets for exhibitions are set at the beginning of the fiscal year, and while the market price for producing a video introducing a product is estimated to be 700,000 yen or more, it is difficult to raise the money from the exhibition budget. Giraffe DOGA can produce an animated PR video for the overwhelmingly low price of 180,000 yen by basing it on the 2D design of the explanatory panels and flyers used at the exhibition. Preparation for an exhibition while performing normal work tends to be extremely busy and delivery time is often a problem, but by utilizing existing panel and flyer data, not only can a short delivery time be realized, but a video that matches the branding of the booth can also be broadcast.
Example of converting JiRAKU's flyer into a video
Original flyer (front and back)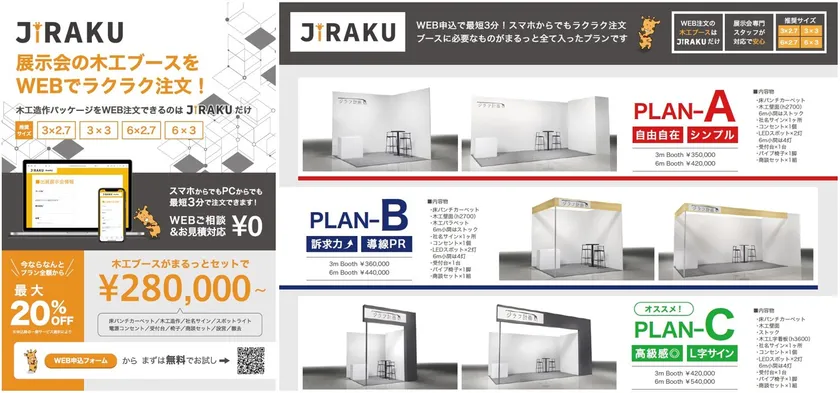 Actual video product
https://www.youtube.com/watch?v=AlEyCRfw-h8
The merits of using video itself are appeal, ability to attract customers, and web strategy.
By utilizing video, a highly appealing approach can be taken by specifically conveying the appeal of the merchandise at the exhibition. In addition, videos can serve as a hook for visitors to stop by, simply by virtue of the fact that they are moving objects, and directly lead to customer attraction. Using videos on the Web before and after the exhibition is also very effective and common nowadays.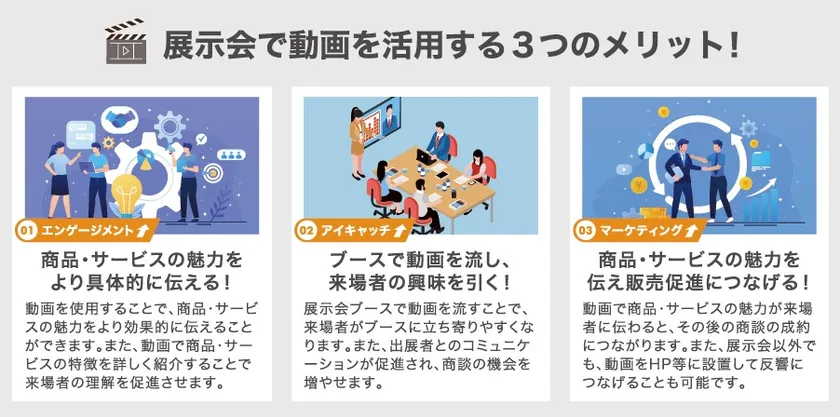 Giraffe DOGA can help you make the best use of video for your booth.
Giraffe Project, a group of professional exhibition booth decorators, not only produces videos through Giraffe DOGA, but also maximizes their effectiveness by producing them in the booth. We can propose layouts that take into account the flow of visitors to the booth, and propose embedded displays, slim stand displays, transparent displays, spherical displays, cube displays, etc., as props, all of which are video skills that come from our exhibition booth know-how.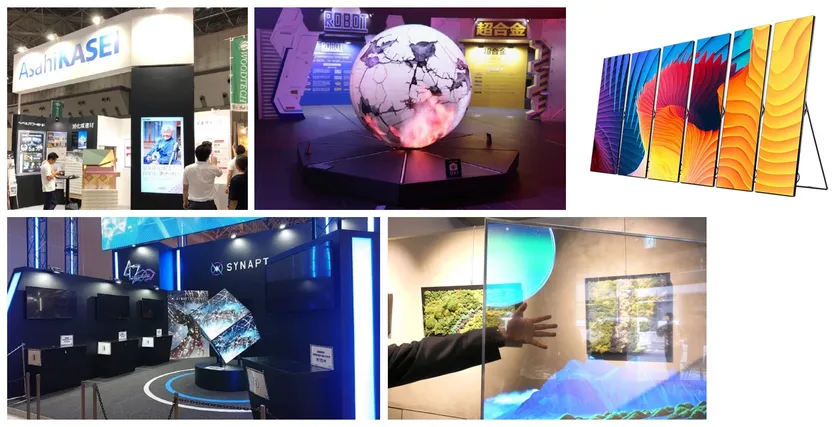 ■ Comment from the person in charge
Manager, Giraffe DOGA Management Office (Giraffe Project Inc.)
There are now more companies than you can imagine that can make videos. Giraffe DOGA is a booth decoration company that specializes in exhibitions and has a lot to offer based on cost performance and speed. Video plays a very important role in exhibitions. However, we have seen many exhibitors who had no choice but to give up due to budget constraints, which is why we decided to launch Giraffe DOGA. The "panels become videos" system is an unlikely concept that has already been well received by our existing clients. As we also have a virtual booth for web development and an article writing business, we hope to use PR videos as a weapon to assist with hybrid advertising strategies in both the real and virtual worlds. We are looking forward to hearing from you, not only from our seasoned and experienced staff, but also from our video production team of the younger generation, who are waiting for your inquiries with their heads held high like giraffes (giraffes).
About the company
Giraffe Project is a booth decoration company for exhibition events. We provide one-stop service from design/planning/construction to web measures. We are also developing "JiRAKU," a wooden booth web ordering service. We opened Tokyo Labo (Katsushika-ku, Tokyo) this term and renewed the company logo. We are researching and proposing specialized exhibition booths from all angles.

Company Profile
Company name: Giraffe Planning Co.
Head office location: 1-3 Hamada, Mihama-ku, Chiba-shi, Chiba
Business description : Spatial display business, game business