Giraffe Planning to provide booth decorations for trade shows, etc, Jiraku", a wooden booth ordering service for exhibitors at trade shows JiRAKU, a new plan for wooden booths, is now available for exhibitors.
Easy ordering from PC or smartphone in as little as 3 minutes
Giraffe Project Inc. (Headquarters: Mihama-ku, Chiba City) released a new plan for JiRAKU, a web-based ordering service for wooden booths at trade show events, on September 13, 2023.

JiRAKU: https://giraffe-planning.jp/jiraku
■Wooden booths can be erected in as little as 3 minutes, starting from the 200,000-yen range.
Preparation of booth decorations for exhibition events used to take an enormous amount of time, but this service allows you to place an order in as little as 3 minutes from your PC or smartphone and provide a woodworking booth at an astonishingly low cost in the 200,000 to 300,000 yen range.
The service was launched this spring, and not only did it receive a large number of orders, but it was also nominated as a Trial Ordering Authorized Business (Chiba City), which actively promotes excellent new services, thanks to follow-up services such as catch copy and booth management guidance by a newly affiliated consulting company specializing in exhibition sales. The company was nominated as a Trial Order Certification Business (Chiba City), which actively promotes excellent new services.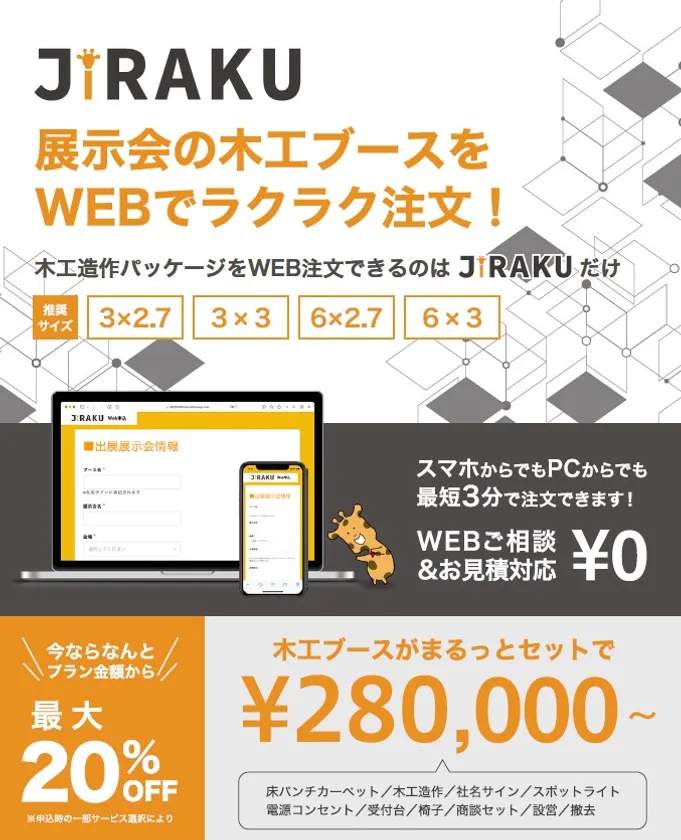 Comments from users
We have a small budget, but we want to get a lot of leads.
We were considering a high-class wooden booth.
We want to have a booth that stands out from the surrounding booths even if the booth space is small.
We want to have a booth that stands out from the surrounding booths even if it has a small number of booths.
We want to differentiate our booth from the system construction package plans.
Exhibitors who want to differentiate their booths from those of other exhibitors.
Exhibitors who want to differentiate themselves from other exhibitors by using a system construction package plan.
High degree of customization
In addition to many types of plans according to budget and purpose, we also provide a wide variety of optional equipment and fixtures, which can be customized to meet your needs. Management and arrangements are made by skilled staff with more than 10 years of experience in exhibition construction, so you can use this service with peace of mind and security.
■New Plan Reflecting Exhibitors' Opinions
About six months after the launch of the service, JiRAKU has added new designs reflecting real feedback from exhibitors, bringing the number of JiRAKU plans to more than 10.
I want to set up a booth with a high wall of 3.6m height.
We want a simple but more design oriented booth.
We want to attract customers by placing a high-class wooden display stand on the aisle side.
We want to create a specialized space with a lot of signage space.
Many evolutions of JiRAKU's sophisticated plans have appeared that reflect these and other needs.
JiRAKU has established its brand as a more user-friendly web ordering service.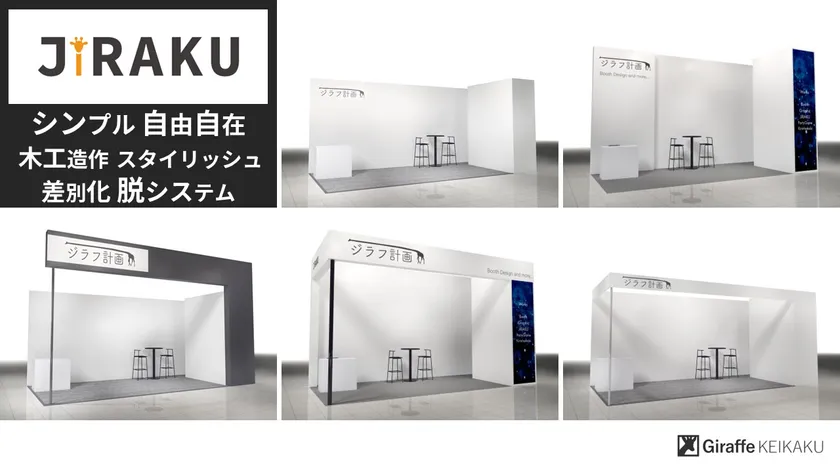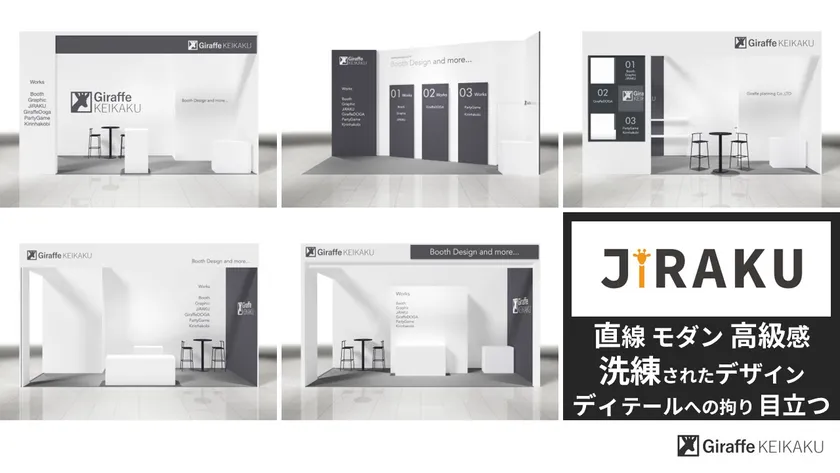 Comment from the person in charge
Manager, JiRAKU Management Office (Jiraku Planning Co., Ltd.)
JiRAKU is a service that was born from the voices of exhibitors. Most companies with a small number of employees do not have a PR specialist, so in most cases, young salespeople combine their regular work with exhibition event duties. It is not unusual for us to hear from them late at night. JiRAKU offers 11 types of booths, including a new plan with a high design quality. The basic system is that you only need to select a color and a high-class wooden booth will be erected at the venue. This is a revolutionary system that allows us to offer booths at an overwhelmingly low price by cutting labor costs through web-based ordering, since there are no troublesome considerations and the usual numerous meetings. Of course, we can also provide tailor-made services to meet your needs, and our exhibition producers will be happy to assist you with any questions you may have.
About the Management Company
Giraffe Planning is a booth decoration company for exhibition events. We provide one-stop service from design/planning/construction to web measures. We also offer "Giraffe DOGA," a video proposal and production service specialized for exhibitions.
This term, the Tokyo Lab (Katsushika-ku, Tokyo) was opened and the company logo was redesigned. We are researching and proposing specialized proposals for exhibition booths from all angles.

Company Profile
Company name: Giraffe Planning Co.
Head office location: 1-3 Hamada, Mihama-ku, Chiba-shi, Chiba
Business description : Spatial display business, game business