One-Coin Support Service to Relieve Concerns about Handsets and Communications HIS Mobile Care" will be launched on September 1.
H.I.S. Mobile K.K. (headquartered in Minato-ku, Tokyo; Eichi Inokoshi, President; hereinafter "HIS Mobile") will start offering "HIS Mobile Care," a support service to solve various concerns about handsets and communications for 500 yen per month (excluding tax) from September 1, 2023 (Friday).

The ownership rate of digital devices (PCs, tablets, smartphones, etc.) is on the rise (97.3%*1 of all mobile devices will be owned by households in 2021), and they have become familiar necessities. The price of smartphones, in particular, is becoming more expensive every year, and the number of cases of damage to digital devices and loss of data is expected to increase as the number of people who use smartphones for a long time increases. In addition, as the number of subscribers to our low-cost SIMs (such as the Jiyu Jiyu 290 Plan*2 ) increases, the number of customers with limited knowledge of telecommunications and smartphones has also increased, and many customers have expressed a desire for more extensive support and smartphone operation and settings.
Against this backdrop, we are launching this service to provide customers with comprehensive and inexpensive solutions to their concerns about handsets and communications by offering compensation for repairs and data loss of their digital devices, as well as support for our services and smartphones.
*1: (Source: 2022 edition of "Telecommunications Usage Trend Survey" by the Ministry of Internal Affairs and Communications)
*2:Low-cost SIM with voice communication available from 290 yen per month basic fee (tax included) https://his-mobile.com/domestic/planlp_2022splan
HIS Mobile Care Service Details
https://his-mobile.com/care *Applications will begin at 10:00 a.m. on September 1, 2023

1. data coverage
HIS Mobile Care subscribers will recover data on the handsets they have purchased.
This service covers not only information terminals such as smartphones, tablets and PCs, but also electronic devices such as digital cameras and video cameras.
*Data recovery service is available up to twice a year.
Data recovery company: AOS Data Corporation
2. usage support
HIS Mobile Care subscribers can use various support services*1 provided by the Company free of charge.
In addition, at designated shops*2 and in-store consultations, smartphone support menus that cost 1,650 yen or less including tax will be free of charge, and other menus will be available at half the regular price.
1:Telephone support, manned chat support
*2: Aisupport Lumine Ikebukuro, Aisupport Omiya Arche, all HIS Mobile Station stores
3. handset coverage (benefit)
Up to 50,000 yen will be covered for repair costs of smartphones, tablets, and other devices owned by HIS Mobile Care subscribers and their relatives living in the same household in the event of accidental damage or destruction of the exterior, water leakage, or natural malfunction.
(*Compensation for devices is limited to a maximum of twice a year for up to two devices.
Underwriting insurance company: Sakura Insurance Co.
HIS Mobile Care Fee
Monthly fee: 500 yen excluding tax (550 yen including tax)
Payment is due on the 26th of each month for the following month.
■Three-month free trial campaign
Campaign period: Friday, September 1, 2023 - Monday, September 25, 2023
If you apply for HIS Mobile Care during the campaign period, you can use the service for 3 months free of charge.
*Contract must be continued for at least 3 months.
All customers who apply for HIS Mobile Care during the campaign period are eligible.
If you cancel the contract after less than 3 months, you will not be eligible for cash back. Please note that we do not offer partial cash back.
Free trial is limited to once per person.
If you wish to terminate the service during the free trial period, please cancel between October 27 and November 25, and you will not be charged.
The free trial fee will be charged to your credit card once, but we will process the cancellation. The timing of refunds, etc. will vary depending on the credit card used.
*Please note that the campaign is subject to change or end without notice.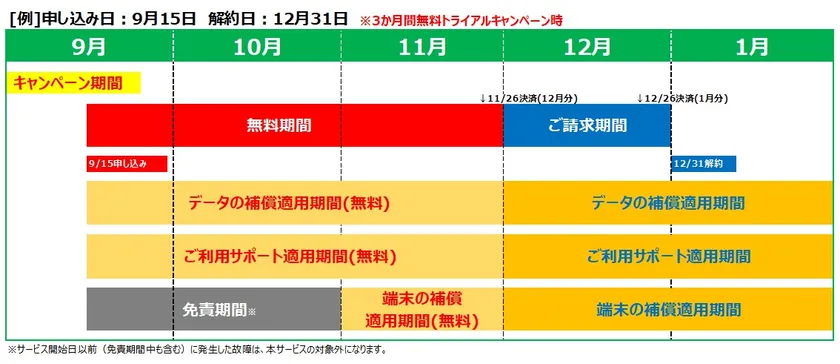 Company Profile
Name: H.I.S. Mobile K.K.
Representative: Hidetomo Inokoshi, President and Representative Director
Location :5F Kamiyacho Trust Tower, 4-1-1 Toranomon, Minato-ku, Tokyo 105-6905
Establishment : February 15, 2018
Capital :50 million yen
Business : Telecommunications business as stipulated in the Telecommunications Business Law
     Development, manufacture, and sale of systems related to telecommunications, and sale and lease of equipment
Major shareholders : HIS Corporation, Japan Communications Inc.