Water Reservoir Life Extension Method that Requires Neither Renewal nor Repainting Started recruiting authorized distributors of "Susu Coating(R)" throughout Japan.
Prevents age-related deterioration of base material and prolongs the life of the cistern over the long term
Shu Inc. (Location: Yokohama City, Kanagawa Prefecture; Representative Director: Hideta Sato) has started recruiting authorized distributors nationwide to offer its patented Sasu Coating(R) water tank life extension method to customers.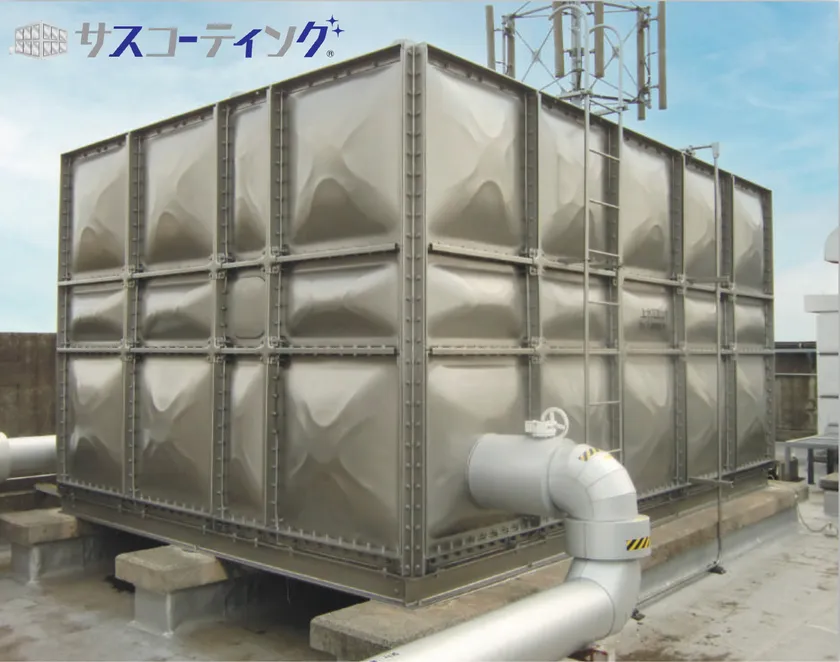 Sasu Coating(R): https://sus-coating.com
What is Sasu Coating?
Sasu Coating uses patented technology to extend the life of your water tank for a long period of time.
The Sasu Coating service can be installed at any time without the hassle of water shutoffs.
Features of Sus Coating
Our originally developed resin can be applied directly to FRP, the base material of water tanks, without primer. The combination of stainless pigment (SUS316L) blocks air, light, and moisture, and prevents hydrolysis, thereby stopping the deterioration of the base material.
Unparalleled cost performance
Conventional renewal work for a 50-ton tank, from temporary tanks to industrial waste, costs around 15 million yen in total and requires renewal every 20 years, but SUS coating can be applied once and requires neither re-coating nor renewal, reducing the cost to around 5 million yen.
[Keeping water storage safe and secure
However, Susu Coating will not allow light to pass through and will prevent chlorine from evaporating, bacteria from growing, and algae from forming.
10-year warranty】[10年保証付き].
We offer a 10-year warranty at the Suss Coating Headquarters.
In the unlikely event that the coating peels off, Suss Coating Headquarters will take care of the problem.
Susu Coating is applicable to the panels because they are being used "now".
Sasu Coating will not be applied after the panels have collapsed due to aging deterioration or natural disasters.
If you apply it to a new cistern, the base material can be maintained as new, and even if 25 years have passed, if you can use the cistern now, you can extend its service life for a long time by applying Sus Coating.
We are looking for authorized distributors nationwide.
We are looking for authorized distributors throughout Japan who can offer Sasu Coating to our customers.
There is no cost to join as an authorized distributor, and the installation and warranty are handled by the Sasu Coating headquarters, minimizing the amount of work required by the authorized distributor.
If you are interested in handling Susu Coating as a plus-one product or new service, please contact us using the inquiry form on the Susu Coating detail site.
Company Profile
Trade name: Shu Inc.
Representative: Hideta Sato, President
Location: Koyo Bldg. 4F, 2-2 Sakuragi-cho, Naka-ku, Yokohama, Kanagawa 231-0062, Japan
Establishment : April 2014
Capital: 10,000,000 yen
Business : Construction
HP : https://shu-inc.jp