Former J-League players and coaches are on the staff! Play advisors" are very popular at nursery schools and children's clubs.
A group of professionals who bring out children's "Fun! A group of professionals who bring out the "fun!
Anfini Corporation (Head office: Tsukubamirai City, Ibaraki Prefecture; President: Akihiko Katayama; hereafter referred to as "Anfini") has been holding monthly "exercise play classes" by play advisors at the nursery schools and children's clubs operated by Anfini and will continue to do so in the future.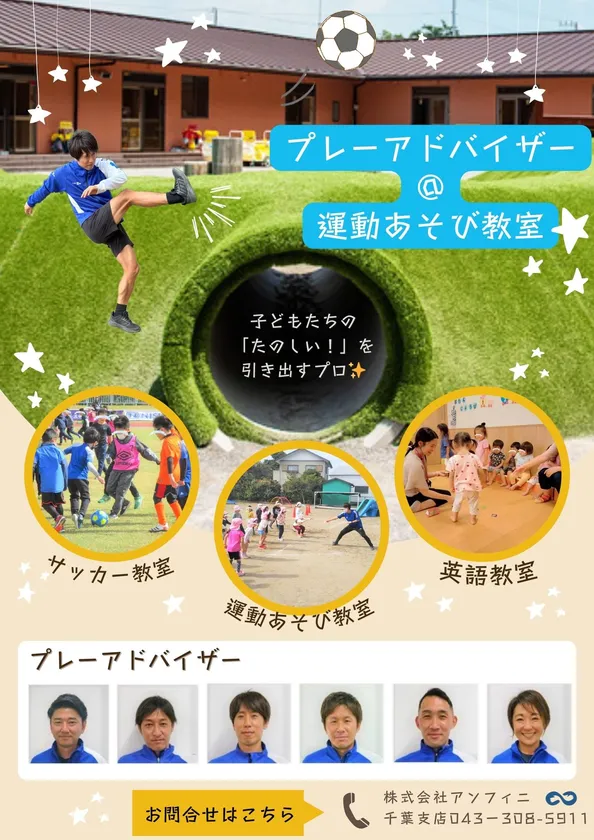 Play advisors are former J-League players and coaches, active soccer players, athletic trainers who have worked in the U.S., and returnees who are fluent in foreign languages, all with various backgrounds and genders.
All of them are also certified as early childhood physical education instructors and kids' leaders as needed, and share information frequently at meetings.
What is a physical activity class?
At daycare centers, we offer play classes for children under 0 to 2 years old and play classes with a few rules for children 3 to 5 years old and above. The curriculum is designed to meet the needs of children as they grow over the course of the year, and includes activities such as "Let's jump on the rope as a snake! Let's wrestle on the mat! and "Let's wrestle on the mat! If a childcare worker requests that we incorporate a play activity with this type of movement, we are flexible enough to make changes in consultation with the childcare worker, which is an appealing feature of our directly employed staff.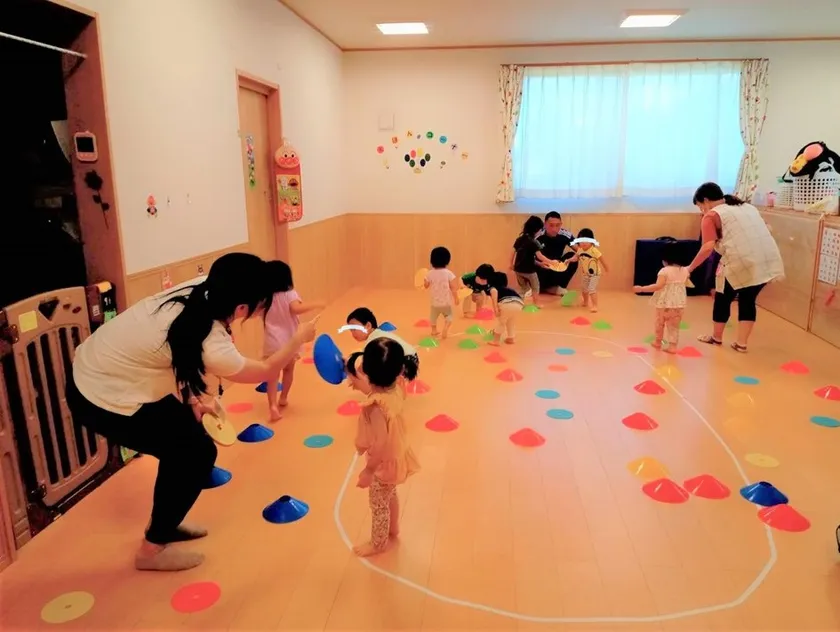 The children love the exercise class, which begins with the greeting, "Nice to meet you," and ends with a cheerful "Thank you," so much so that they cheer in yellow when they see the play advisor.
Some municipalities in Chiba Prefecture operate only "exercise play classes" on consignment.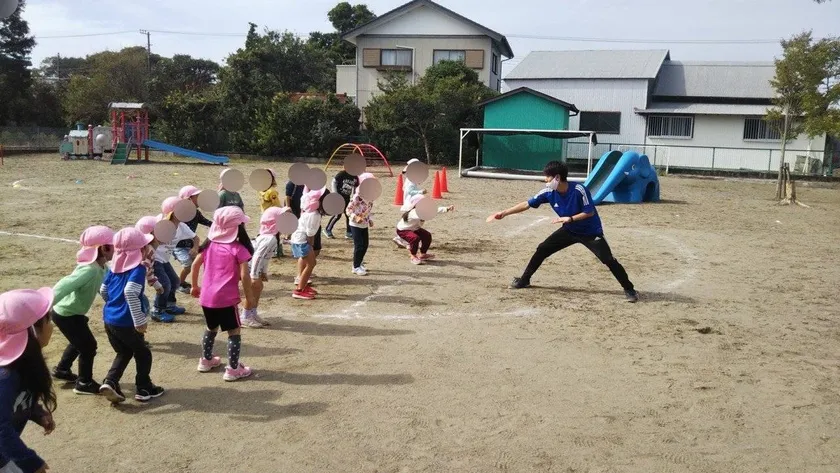 Soccer Classes (School-age children's clubs)
Soccer classes are held at school children's clubs.
Play advisors and assistants from each area visit the school children's clubs operated by Anfini and hold classes. At elementary school age, it is not only children who can enjoy playing soccer. This is when the play advisors show their skills and use various ideas to attract the children. The appeal of the children's clubs is "the advantages of spending time in a group," and since it is not a school-based program, it is important to convey the message that "it is fun to play using your body! We are not a school for learning, so it is important to convey the idea that "playing with your body is fun!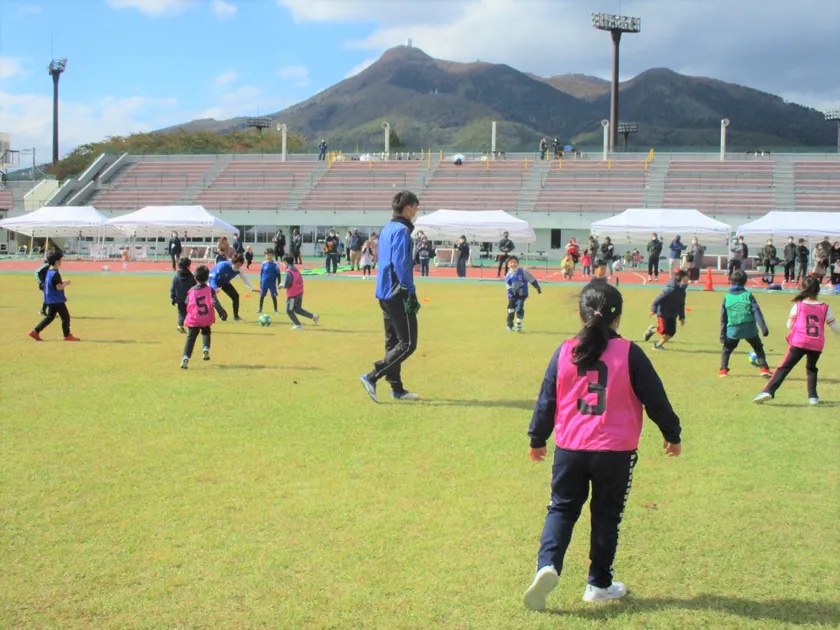 English Classes also started
English classes have started this school year. Although we have not yet been able to offer English classes in all areas, we are expanding the number of areas where English classes are offered, both in nursery schools and school-age clubs. Since the teaching materials are created from scratch by returnee staff who are fluent in the language, the children's response has been very positive, and we are also assisting with childcare to further build relationships with the children.
The ongoing relationship with the children has helped to increase their interest in English classes, which is something we are able to do because of our company.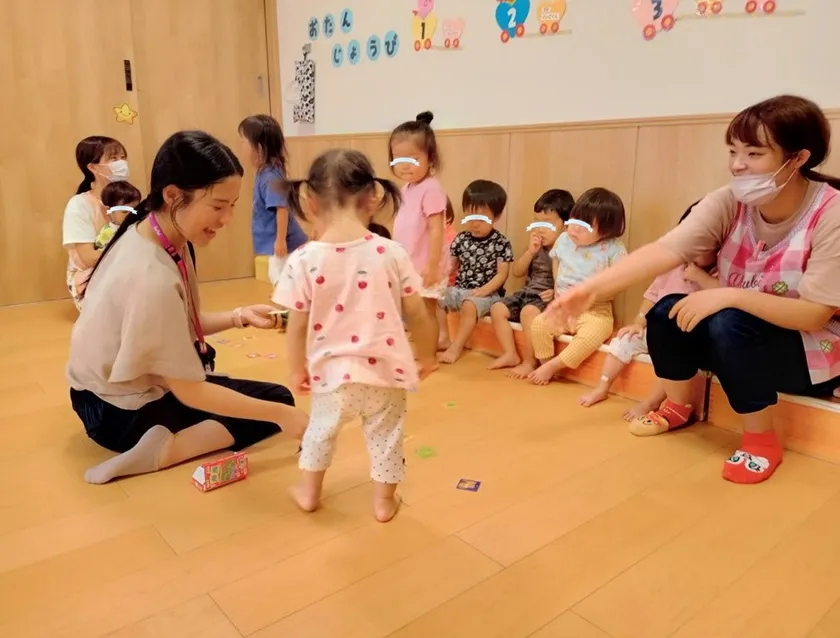 ■Yoga classes for babies and mothers
We offer yoga classes for babies and mothers in our childcare support center. There are many mothers raising children who tend to be diluted due to the increase in nuclear families and the Corona Disaster. A space where babies and mothers can spend time together alone is very precious, and smiles blossom as they talk about child-rearing and chit-chat.
Please take a look at the article by the play advisor on Anfini's NOTE (public relations).
→ https://note.com/anfini_hoiku/n/n2cfc35e068b7?magazine_key=mcc03e732beff
Because we operate a childcare facility, we provide a fun time while taking into consideration the feelings of the children and staff. Anfini's play advisors are expanding the scope of their activities, including planning and planning events, based on the premise that "children who like to move around and children who are not good at it can enjoy participating in classes.
About Anfini
Name: Anfini Corporation
Location: 1812-16 Itabashi, Tsukubamirai City, Ibaraki Prefecture, 300-2307, Japan
Representative: Akihiko Katayama, President
Business description: Establishment of new after-school child sound upbringing businesses and operation of such businesses on consignment,
      Establishment and operation of new after-school child sound upbringing business, establishment and operation of licensed nursery schools and other various childcare facilities on consignment