winecode, a wine management application for business use, undergoes a major evolution New features to support business improvement will be available starting Thursday, September 7!
RELATION DESIGN LABO, GENERAL INC. ASSOCIATION
Relation Design Institute, Inc. (headquartered in Sanda City, Hyogo Prefecture; Masahiko Sakakibara, President) has launched new functions (Web app, iOS app, and Android app) for its business-use wine management application "winecode" on September 7, 2023 (Thursday).
Concept of New Functions
Winecode was released for the purpose of "managing a large number of different types of wine at multiple locations.
It has been adopted by restaurants with wine aging warehouses and hotels where wine is exchanged among stores, and has achieved a certain objective. The next step in the process is to not only manage the wine, but also to help improve the management of the wine.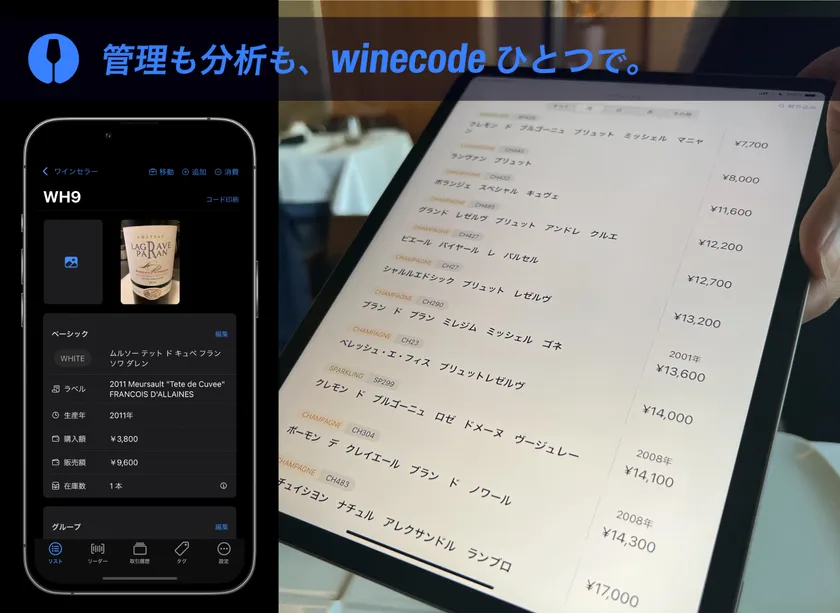 ■List of New Functions
◯Publication of wine list
For many restaurant customers, wine was "the main dish, and the wine is a complement to it. However, if customers can see the wine list before coming to the restaurant, they can come to the restaurant for the purpose of wine and keep the wine they are looking for. Therefore, the wine list was made public on the Web and shared with customers as follows.
SeRieUX, a French restaurant in Roppongi, Tokyo
https://winecode.app/publish/7770-2007/5DWYdQ63TxapFmjReDMvAbPU5hu1
Le Benaton, a French restaurant in Shukugawa, Nishinomiya City, Hyogo Prefecture
https://winecode.app/publish/2362-5951/gytuwze7JQTnrDtO2ucFzwqI11l2?id=1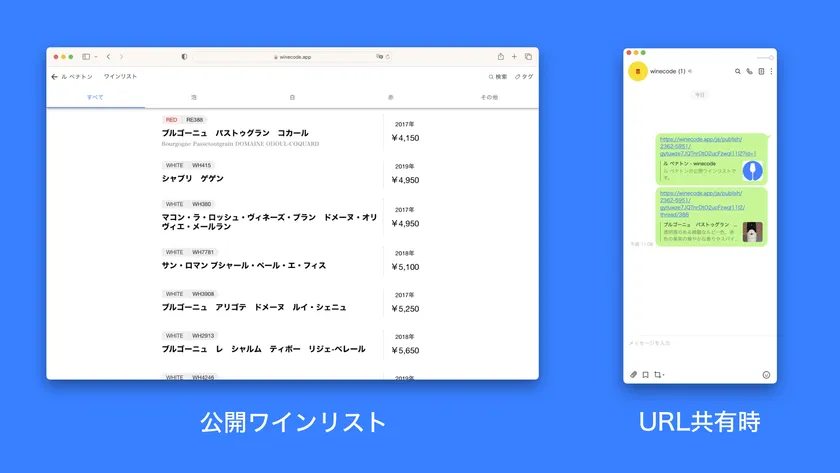 Both of these restaurants use winecode to provide wine lists to customers in their restaurants.
◯Wine transaction history
Conventional wine management applications could not quantitatively grasp when and by whom wine was increased or decreased, even though it could tell how many bottles of wine remained. Therefore, winecode has released a function that allows users to record and confirm when and by whom "consumption," "additions," and "inventory" were made. These records can also be analyzed graphically on the application by quantity, amount, and inventory count.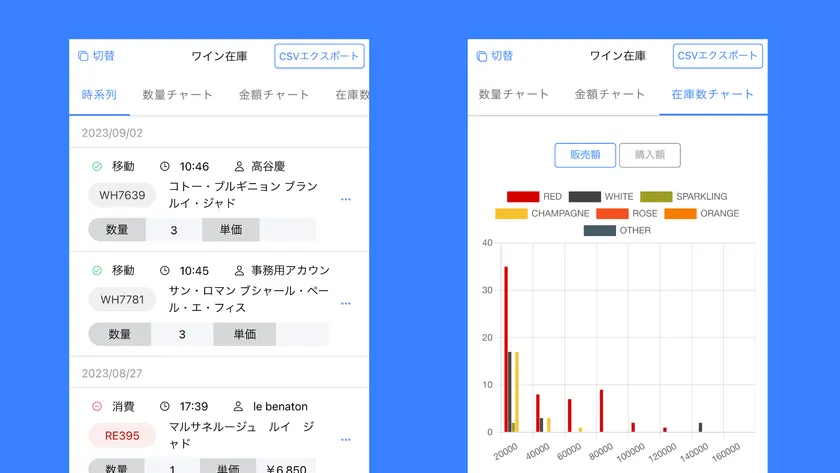 The transaction history can be downloaded in CSV format for a specified period of time for your own analysis or for importing into your accounting software.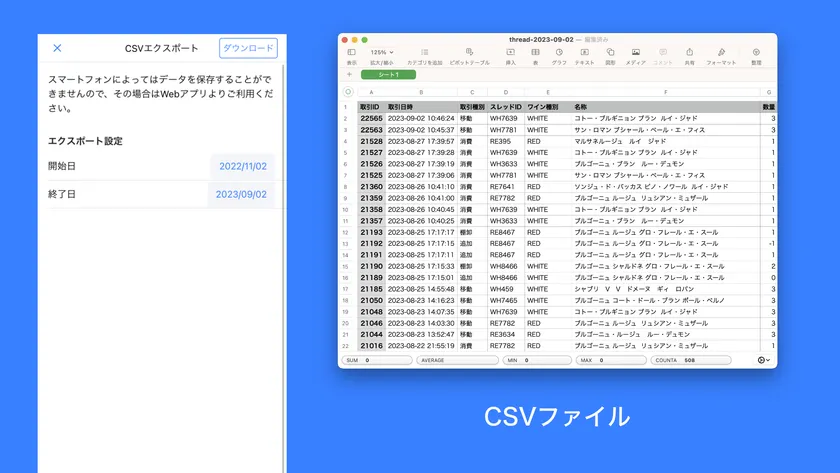 CSV Import of Fat Wine Data
In a store where many new items come in regularly, it is not efficient to enter new wine data one by one. Therefore, we have released a CSV import function.
◯Documentation maintenance
Since winecode is designed for business use, it has many functions, and we have received comments from users who have been using it for a long time that there are many hidden functions and that they do not know if they are using it well enough, so we have developed official documentation.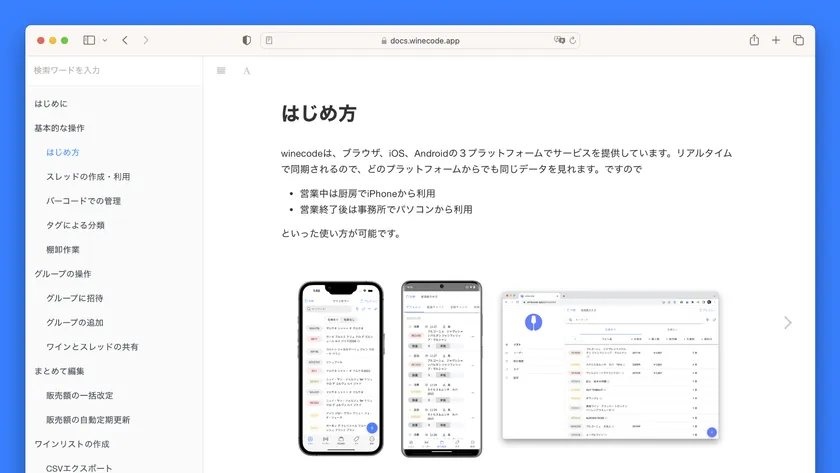 We also announce the release of new features on the #winecode hashtag on X (formerly Twitter).
https://twitter.com/search?q=%23winecode&src=typed_query&f=live
■Comments from the hiring restaurant
SeRieUX, a French restaurant in Roppongi, Tokyo
Since we started using Winecode, our inventory management has become much smoother.
We can check the inventory not only in the restaurant but also when we are on the move, so we can place orders without wasting time. It also simplifies the process of allocating inventory to branch offices, which is very helpful."
Mr. Hope Ogura, Sommelier
Japanese restaurant "Tenoshima" in Minami Aoyama, Tokyo
The use of Winecode has not only made it easier for us to manage wines in multiple locations, but it has also enabled our staff who are not familiar with wine to quickly find the wine they need and make the right recommendation to our customers. We especially like the tagging feature, which allows us to tag wines with detailed information about where they are located. The app is constantly evolving, so it will become even easier to use and indispensable for us in the future.
Sari Hayashi, Proprietress (Senior Managing Director, Teshima Kikaku Co.
Italian wine importer Fudo Co.
The app is simple, but has a lot of nice features in details. Also, the speed at which new features are updated/added is unimaginable with other applications, and the application evolves daily.
Management by multiple hashtags and the CSV import function released in a recent update make it easy to switch from other applications. Predictive conversion of stored item names is also very smooth to use. We are confident that winecode will simplify our operations in the future."
Mr. Yuki Inoue, Representative Director and Sommelier
Le Benaton, a French restaurant in Shukugawa, Nishinomiya City, Hyogo Prefecture
This app is very helpful because it allows us to manage our store cellar, warehouse, and customer wine separately. We used to manage them with Excel, which made it difficult to share information with our staff, but winecode allows multiple members to share, operate, and check the operation logs, which has made our business much more efficient.
In addition to management, we also use it to analyze information based on transaction histories, wine price fluctuations, etc. It is now one of the tools that support our management. It's also great that I can work from my phone during free time in the business and from my computer for administrative work before and after business hours."
Mr. Kei Takatani, owner-chef
■Background of Provision
This application is a business application for restaurants, retailers, and importers who handle wine to easily manage a large number of different types and quantities of wine at multiple locations. Currently, most wine apps available on the web or in app stores are for personal records, and you will not find an app specialized for this type of business wine management.
As a result, most businesses use spreadsheets such as Excel to manage their inventory, and this makes it impossible to manage inventory by barcode, which is common in the retail distribution industry, and is not very efficient.
Therefore, this application is designed for multiple environments, such as "smartphone application in the field" and "also on a PC for office work.
This application is designed to be used in multiple environments, such as "onsite with a smartphone app" and "at the office with a PC," so that operators can easily manage wine.
Outline of "winecode
Name : winecode
Fee : Free (paid plans available)
Official website : https://site.winecode.app/
Application download URL
Web app : https://winecode.app/
iOS application : https://apps.apple.com/jp/app/id1546833807?mt=8
Android app : https://play.google.com/store/apps/details?id=jp.rdlabo.winecode
■Company Profile
Organization: Relation Design Institute, Inc.
Representative Director: Masahiko Sakakibara
Establishment : June 23, 2011
Location: Yayogaoka, Sanda-shi, Hyogo 669-1546
Business: Web production, application development, seminars, etc.
URL : https://www.rdlabo.jp/