Yume no Otedaide Co., Ltd. to Sponsor "Performing Arts & Arts Culture Festival" at Otowa Bunka Hall in Toyokawa City on Oct. 15 to be held on October 15 at Otowa Bunka Hall in Toyokawa City.
~Yumetetsu Community Support Project
Yume no Teitai Co. (based in Toyota City, Aichi Prefecture, President: Eikichi Yamaka), a community-based real estate brokerage firm, is pleased to announce its sponsorship of the "Performing Arts & Arts Festival" to be held on October 15, 2023 (Sunday).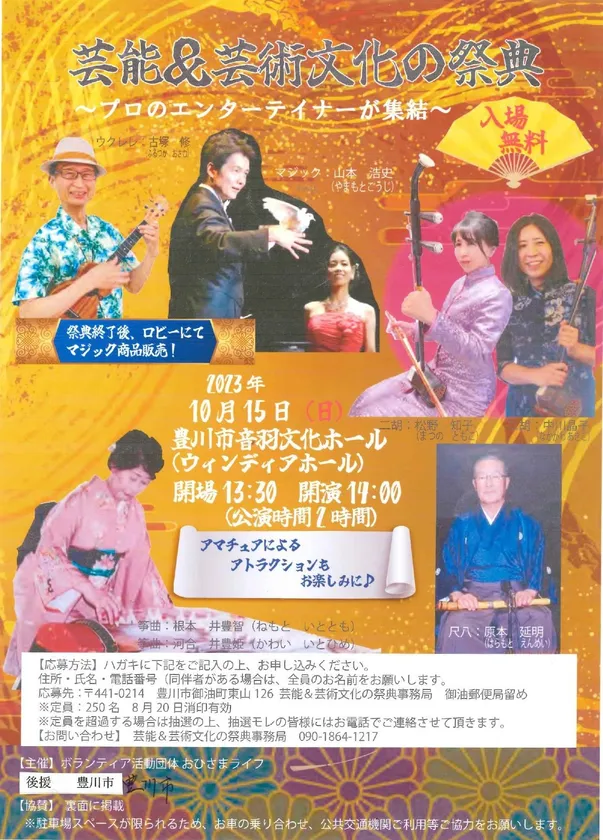 This event, organized by Ohisama Life (a volunteer organization), aims to bring back "happiness" and "spiritual richness" to daily life that was closed off by the Corona disaster through professional performances of performing arts and arts.
The "Performing Arts & Arts Cultural Festival" is an opportunity to see firsthand the finest performances by professionals in the performing arts and arts that are rarely seen in daily life, and to enjoy music such as shakuhachi, koto music, erhu, and more. Admission to the festival is free of charge, as we hope that all citizens will feel free to come and enjoy the festival to their heart's content.
We are pleased to be a co-sponsor of this event, as we hope that this festival, which will allow people to feel professional music close at hand, will bring special interaction to this area and create a town where smiles never cease to be seen.
Event Outline
Performing Arts & Arts Festival
Date: October 15, 2023 (Sun.) Doors open at 13:30, Concert begins at 14:00
Place: Toyokawa City Otowa Cultural Hall (Windia Hall)
Sponsor: Ohisama Life, a volunteer activity group
Admission: Free
Event Sponsorship】 【Special Thoughts on Event Sponsorship
Yume no Otetsudai Co., Ltd. has as one of its missions not only to help customers with their housing dreams, but also to help children living in the community with their dreams.
As a real estate broker, it is also our important job to help make the community a more comfortable and attractive place to live.
We have six House Do stores in the Higashimikawa region, and we hope to be of further assistance to the local community through this event.
Our Commitment to Community Contribution and SDGs
Yume no Otetsudai Inc. is working on the SDGs, which aim for a sustainable society, from an approach unique to a real estate company.
As part of our "environment x people" approach to creating livable communities, we have sponsored events for children, donated air conditioners to educational facilities, and donated masks to local governments for the Corona Disaster.
Yume no Otetsudai's approach to the SDGs
https://yumenootetsudai.com/sdgs
About Yume no Otetsudai Co.
Yume no Otetsudai Co., Ltd. has branches in Toyota City, Toyokawa City, Toyohashi City, Gamagori City, Chikusa-ku, Nagoya City, Nakagawa-ku, Takahama City, and Ogaki City, Gifu Prefecture, and is a company that helps customers with the important life-defining moments of buying and selling houses and land. We offer a variety of housing solutions to suit your lifestyle, and help you find land, houses, condominiums, remodeling, construction, and all other housing-related dreams. We provide one-stop service to support your life even after you purchase real estate, regardless of whether it is for sale, used, or newly built.
Company Profile
Company name: Yume no Otetsudai Co.
Location: 5-8-2 Motomiya-cho, Toyota-shi, Aichi 471-0871, Japan
Representative: Eikichi Yamaka, President and Representative Director
Establishment : February 22, 2011 (Established in February 2011)
Capital: 20 million yen
Business description: [Brokerage] Real estate brokerage
      Construction business】 Construction and remodeling business
URL : https://yumenootetsudai.com/
Instagram : https://www.instagram.com/hd_yumetetsu/
Official LINE : @591sztma
      https://liff.line.me/1645278921-kWRPP32q/?accountId=591sztma