Jewelry Kyoto to produce earrings that look like pierced earrings "PIARI" The Tale of Genji Series - Vol. 2 New work "Utsusemi" will be released on September 15 (Fri.)!
The blue-black fabric and the remaining thin robe are represented by transparent glass and plates that resemble the wings of a cicada.
Jewelry Kyoto Co., Ltd. will release "Utsusemi" on September 15, 2023 (Fri.) as the newest addition to the "Tale of Genji Series Vol. 2" from "PIARI", earrings that do not hurt or fall off easily, produced by Jewelry Kyoto Co.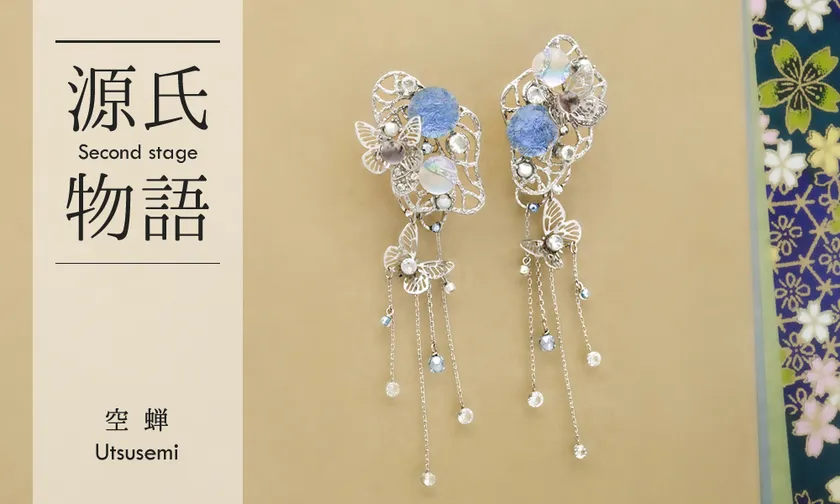 The Tale of Genji, the world's oldest full-length love story written by Murasaki Shikibu, is a bestseller that has been read for over 1,000 years. The second volume of the "Tale of Genji Series, Vol. 2" focuses on five characters.
The fourth character in the second series is the heroine "Utsusemi", who is torn between her feelings for Hikaru Genji, her status, and the world around her, and continues to escape from Hikaru Genji despite her wavering heart.
The "Kyo Glass" is made from a base of Venetian glass, which is carefully fired one by one by craftsmen in our own workshop in Kyoto, and combined with over 100 delicate parts and motifs to create a gorgeous design that is sure to catch the eye. All processes are handmade in a workshop in Kyoto. The Pearls will also be packaged in "The Tale of Genji Limited Package" made of yuzen Japanese paper with images of each character. You can enjoy the package as well as the gorgeous piari.
■Product Details
Product name: "The Tale of Genji - Utsusemi
The design is based on the blue and dull-colored fabric presented to Utsusemi at the robe-giving ceremony and the thin robe she left behind when she fled from Hikaru Genji, represented by transparent two-color glass and a translucent patterned plate. The delicate, shimmering chain is inspired by the scene of "Ameya no Hinase no Hinase" in which Hikaru Genji became interested in Sorasemi.
《What is Utsusemi?》
Sorasemi is one of the women who remain deeply in Hikaru Genji's heart. Because of her status as a married woman and the difference in their status, she rejects Hikaru Genji even though they once had a heart-to-heart talk. Sorasemi is a shell of a cicada. She compares her escape from Hikarugenji's room to that of a cicada shell, as if she were trying to avoid him. She quietly locked away her feelings of love in her heart and left the house after her husband's death. Hikaru Genji, who still holds her in his heart, makes her live in the northern part of Nijo Toin.
Price : 20,900 yen (tax included)
Scheduled release date: September 15, 2023 (Friday)
Product URL : https://www.teftef.org/shop/products/detail/11223
Series URL : https://www.teftef.org/shop/user_data/genji2
Sales outlet : Jewelry Kyoto online store (https://www.teftef.org/)
(Store) Shimizu-zaka Glass Museum -Piari-( https://www.piari.kyoto/ )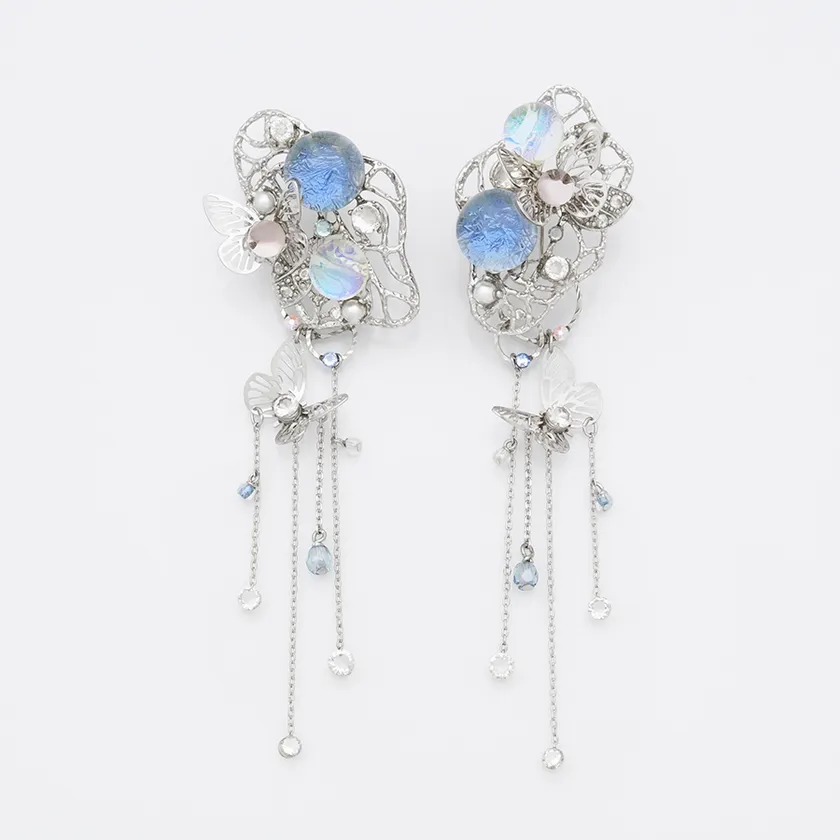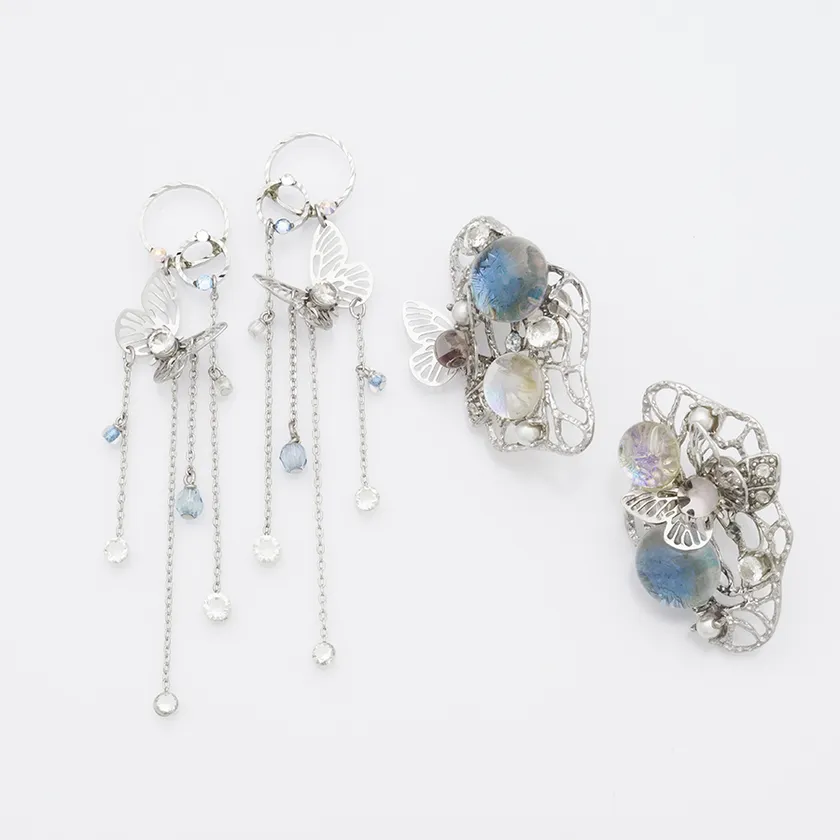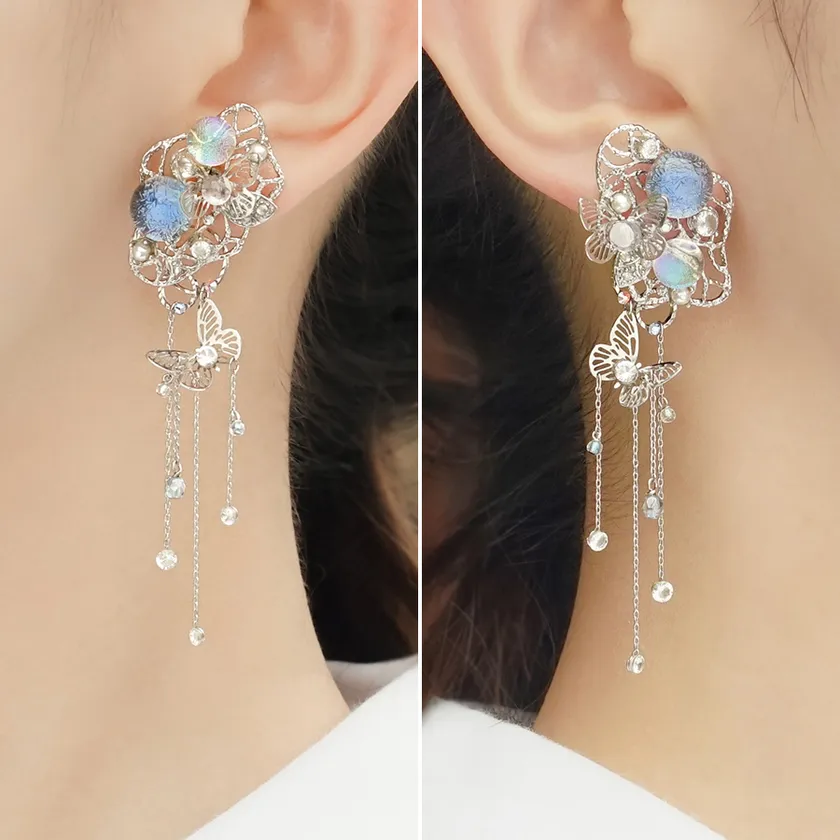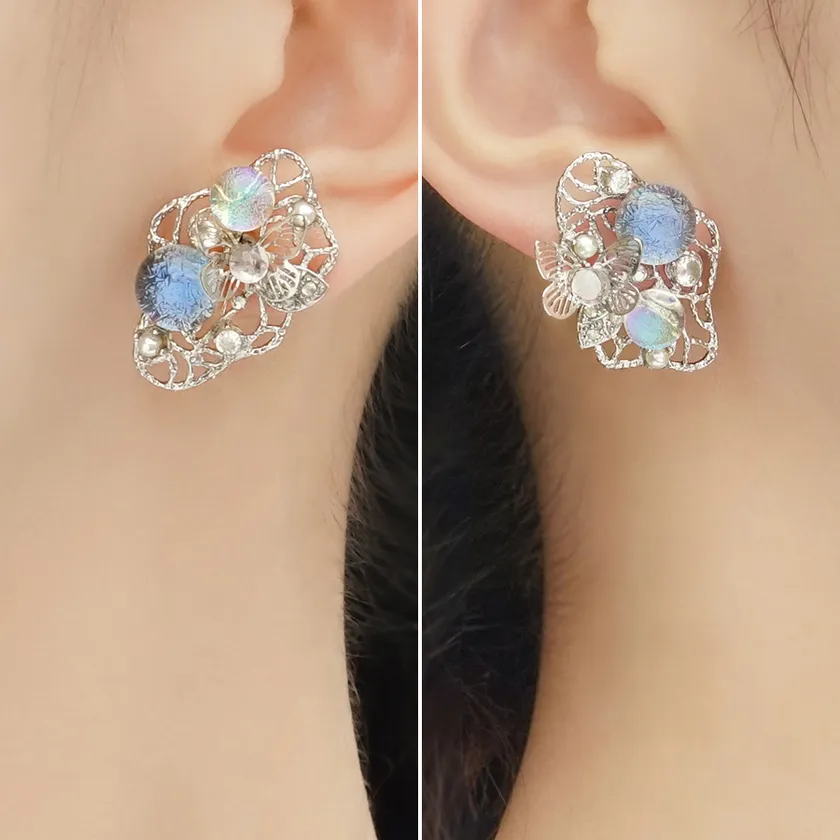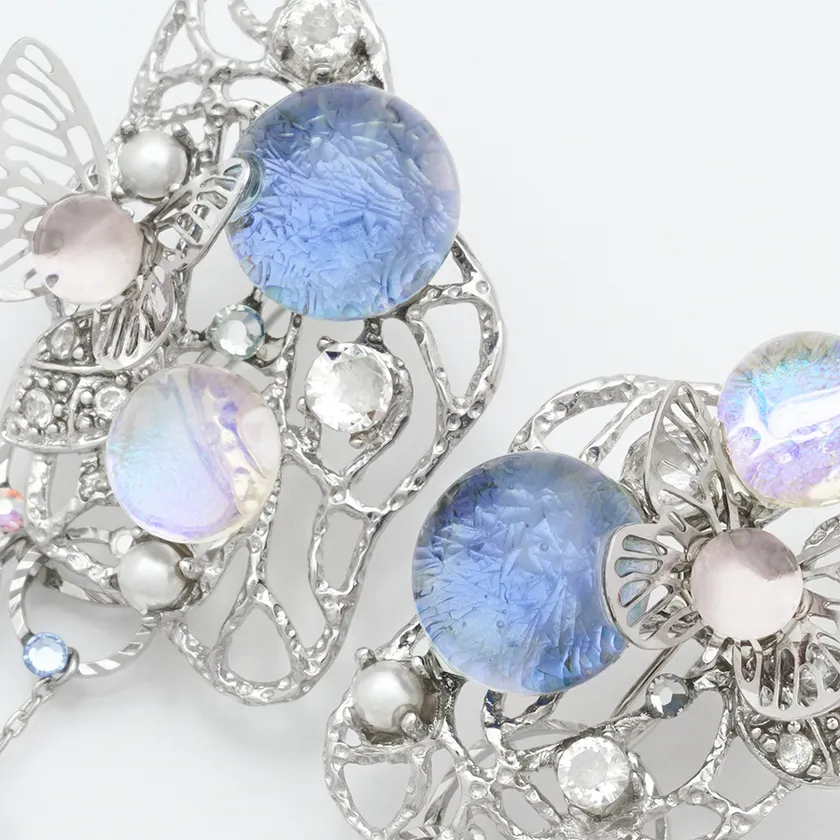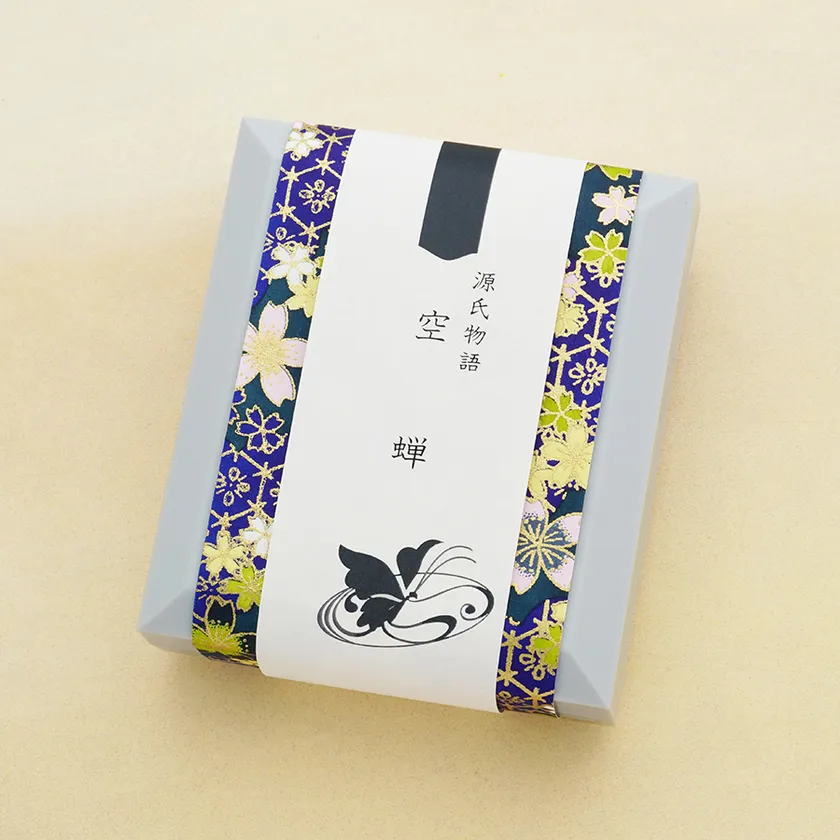 ■Piari (earrings like pierced earrings) features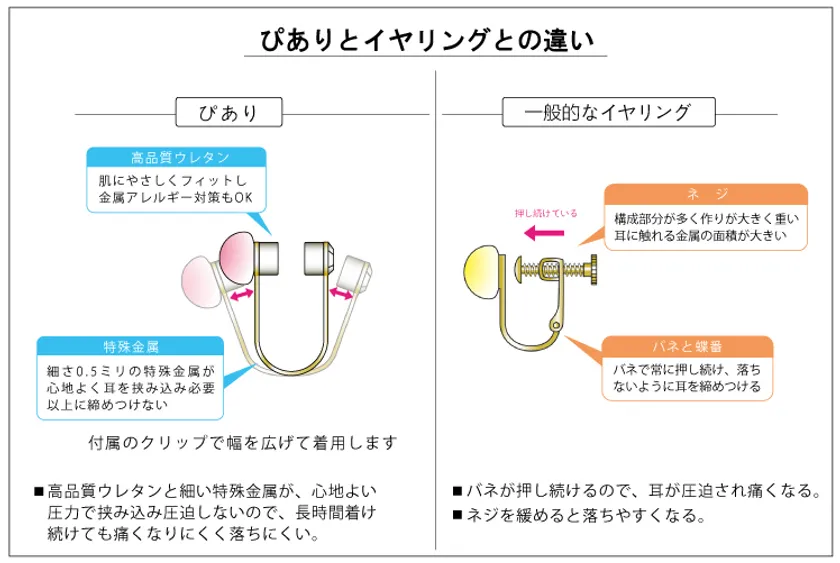 ■Patented original earrings "Piali"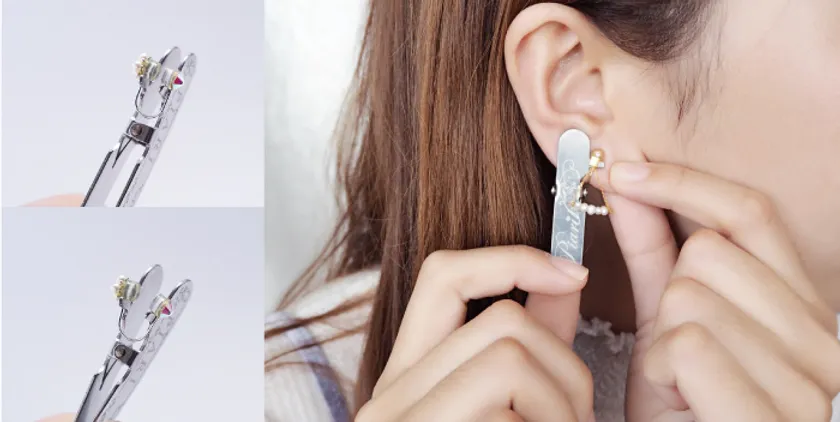 "Piari" are smart, new earrings that look like pierced earrings and can be worn all day without pain, do not easily come off even when pulled, and can be enjoyed even without pierced holes. The 0.5mm special metal, which is hardly noticeable, does not constrict the ear and keeps the earrings comfortable to wear, and the gentle fit of the high-quality urethane makes the earrings less painful and less likely to fall out.
High quality urethane is used so that even those with allergies can wear them. The metal parts are plated with thick 24-karat gold plating for the gold color and allergy-resistant alloy plating for the silver color.
The metal is attached using a special clip so that the metal will not spread.
About Piari
https://www.teftef.org/shop/products/list?category_id=102
■Company Profile
In addition to its flagship product "Piali," the company produces and sells accessories using Venetian glass, such as colorful glass ornamental hairpins and necklaces, one by one handmade by craftsmen in Kyoto.
The company operates a store at the foot of Kiyomizu-dera Temple in Kyoto and an online store.
-----
Company name: Jewelry Kyoto Co.
Representative: Hiroshi Chitoku, President
Location: 44, Kamitoba Takabatake-cho, Minami-ku, Kyoto-shi, Kyoto
TEL: 075-691-8023
Establishment : 2005
Business description: Manufacture and sale of accessories
Capital : 5 million yen
URL : https://www.piari.kyoto/company.html
-----
Online store information
Trade name: JewelryKyoto onlinestore
Location: 44 Takabatake-cho, Kamitoba, Minami-ku, Kyoto-shi, Kyoto
tel : 075-691-8036
FAX : 075-691-8024
URL : https://www.teftef.org/
Business hours: 9:30-17:30 (weekdays)
-----
Store Information
Trade Name : Shimizu-zaka Glass Museum -Pearly
Location : 569-3 Shiraito-cho, Gojozaka, Higashiyama-ku, Kyoto-shi, Kyoto
TEL : 070-2286-9493
URL : https://www.piari.kyoto/
Hours of operation: 9:30-18:30 (open year-round)
*Opening hours and days are subject to change depending on social conditions.