Unified Services and Pluszero have joined forces to Developed Chat-GPT service that dramatically improves search and summary accuracy
Integrated collaboration service combining AI-OCR, Chat-GPT, and Knowledge Graph technologies Sales to DX promotion departments to begin sequentially from October 2023
Unified Services Corporation (headquartered in Minato-ku, Tokyo; Eiji Uda, President & CEO; hereinafter "Unified Services"), a provider of industry cloud and digital marketing services, and pluszero, a provider of solutions, development, maintenance, and operation of various technologies such as AI and natural language processing, have jointly announced a new partnership to improve the accuracy of mass document summary. (Headquarters: Setagaya-ku, Tokyo; Chairman and CEO: Yoshiyuki Ojiro / President and COO: Ryota Mori; hereinafter "pluszero"), which provides, develops, maintains, and operates various technology solutions such as AI and natural language processing, have successfully developed the AI Search & Summary Service (AI-3S), a service that dramatically increases the accuracy of mass document summary and links it to search. Combining the AI search service "Encourage Japan" provided by Unified Services and pluszero's AI technology and implementation capabilities, the service analyzes large volume documents containing special characters and atypical text, summarizes them using AI, instantly generates summarized sentences, and returns a response based on an understanding of the searcher's intent.
Compared to the Large Language Models that are rapidly gaining popularity today, which learn a wide range of information, this service searches and summarizes target information in advance, making it possible to provide more reliable and accurate information, and to understand specialized and difficult-to-understand information in more understandable sentences. This service will be available by October 10, 2023. This service will be available from October 2023 through direct sales of Unified Services.
Background of Development
Together with pluszero, we have been searching for a new service that combines the features of both services. In the past few years, the digitization of business processes in Japanese companies and organizations has progressed rapidly, and at the same time, many documents have been digitized in various companies and organizations. However, although this has resulted in the preservation of more information, many companies and organizations are still unable to fully utilize their information assets. In addition, while many companies and organizations have high expectations for the use of large-scale language models (LLMs), generalized LLMs have outdated information, the spread of misinformation through AI Halcination, and ethical issues.
In an effort to quickly resolve these situations, the two companies collaborated to develop a solution for companies and organizations by combining pluszero's AI technology and Unified Services' ability to integrate a variety of services.
pluszero's highly accurate AI-OCR technology and learning model optimized for the Japanese language form the core of this service, while the Unified Service integrates the information structuring and AI search This service is realized by integrating the information structuring and AI search service functions already provided by Encourage Japan in the Unified Service.
Outline of AI Search & Summary Service (AI-3S)
There is no end to the needs of companies and organizations around the world to easily understand highly specialized information, to avoid sending out wrong information, and to improve productivity through the use of AI. This service is based on Plus Zero's technology, which has long applied natural language processing technology specifically to the Japanese language, and our company's technological capabilities to integrate (unified) existing cloud services.
The service consists of the following functions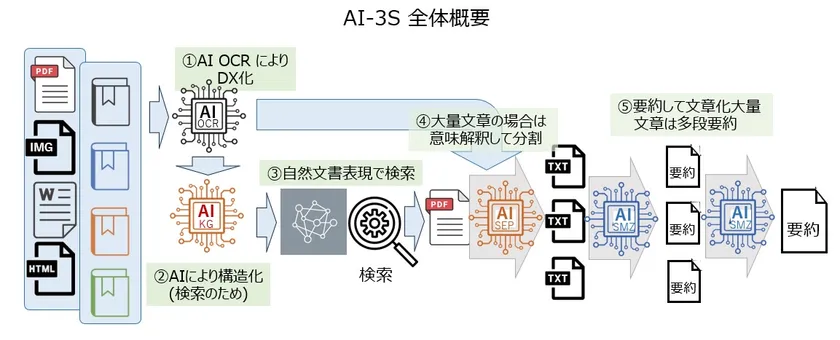 Document digitization function by OCR's+.
OCR's+ is an OCR service provided by pluszero. It flexibly extracts textual information from document files regardless of format, including support for atypical forms. In addition to general AI-OCR technology, natural language processing technology is applied to extract specific content from documents.
(*) For more information about OCR's+, please visit: https://plus-zero.co.jp/services/ocrs
2. information structuring function
Using the information structuring function of Encourage Japan Content, the document is structured to generate a database that can be published on the Internet. The structuring also creates a situation where it is easy for AI to read. 3.
AI search function
Using the natural language analysis search service of Encourage Japan Search, queries that understand the search intent are generated in the back-end, searched against the structured data, and more accurate information is returned quickly.
Document Segmentation Function by Semantic AI
AEI (Artifitial Elastic Intelligence), a natural language processing concept originally proposed by pluszero, is used to segment documents into meaningful chunks.
(*) For more information on AEI, see: https://plus-zero.co.jp/aei(*)
5. AI summary function
The search results are further summarized into a form to be provided to the customer. The display method of summary results will be designed according to customer requests.
The service is planned to be provided in two phases.
<Phase 1 (to be launched in October 2023)
We will use pluszero's OCR's+ to digitize documents and realize multi-step summarization. In addition, AEI technology will be used to automate the semantic segmentation of large volumes of text prior to summarization.
<Phase 2 (to be launched in February 2024)
Integrate with our AI search service "Encourage Japan" to expand the summary service in response to user searches. At the same time, information will be structured.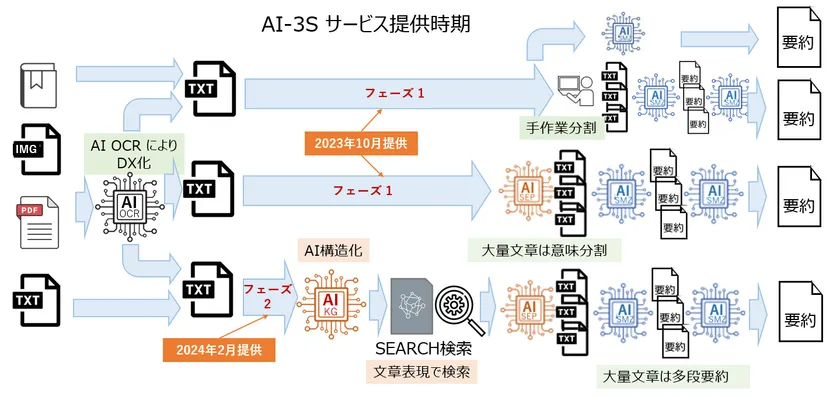 The AI-3S service will be offered through system integration to IT and administrative departments of medium to large companies, as well as to public agencies. Each solution is then packaged individually and offered as a SaaS (System As A Service), which the customer subscribes to on a monthly basis. In parallel with the development of individual sales activities by our sales staff, we also plan to offer a wide range of cloud services on our website.
About "Encourage Japan" service provided by Unified Services
Unified Services has been expanding its cloud service offering domain to marketing business support, leveraging its cloud service implementation capabilities cultivated since its establishment, mainly in the electric power and energy fields. Encourage Japan", the target of this business alliance, is a service licensed from Yext, Inc. of the United States and deployed in Japan with the following features.
<Structured information that serves as an AI search engine for corporate websites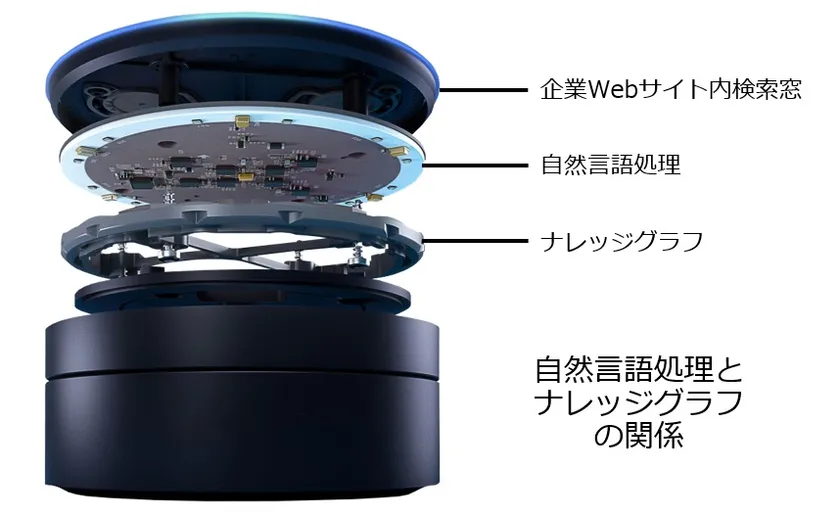 The core of the Encourage Japan service is "EJ Content," a structured database built within corporate websites. EJ Content" uses knowledge graph technology to crawl website content, decompose all text, make sense of it, and store it in a structured format. EJ Content" uses Knowledge Graph technology to crawl through website content, deconstructing all text, assigning meaning to it, and storing it in a structured manner.
<Understanding search intent through natural language analysis technology

Keywords entered into the search window by website visitors are broken down into internal queries. At this time, we use natural language analysis to understand the search intent while assigning meaning to the keywords.
<Highly Accurate Corporate Website Search through a 3-Step Structure
The three-step structure of understanding the meaning of keywords entered in the search window, generating internal queries, and searching the constructed Knowledge Graph makes it possible to dramatically improve search accuracy.
<Future developments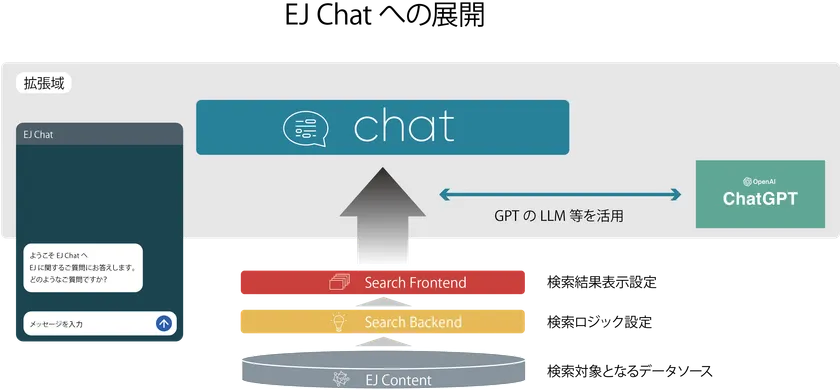 The three-stage structure will support large-scale language models (LLM) by changing the user interface layer to chat. Since the internal query generation and Knowledge Graph structure will remain the same, it will be possible to effectively utilize the assets that have been built. Large-scale language models will be provided in a unique chat format by integrating various LLM services.
■About Unified Services Corporation
Unified Services Corporation provides digital marketing services that improve the search experience on corporate websites and next-generation CRM promotion services that develop relationships with customers and strengthen marketing activities, with a focus on energy-related industry cloud services centered on electric power. We also provide next-generation CRM services to develop relationships with customers and strengthen marketing activities. While our core business is to support the rapidly changing power and energy industry with cloud computing, we will continue to contribute to the creation of a sustainable society by providing digital services that unify the information assets of more corporate customers based on cloud computing technology and deliver advanced experiences.
Unified Services Company Profile
Company name: Unified Services Corporation
Head Office: Ginsen Shinbashi No.2 Bldg. 8F, 5-1-9 Shinbashi, Minato-ku, Tokyo
President and Representative Director: Eiji Uda
Business : Energy-related industries such as electric power and renewable energy
         Cloud services, digital marketing and
         Cloud services, digital marketing and CRM promotion cloud services
Establishment : April 2004
HP : https://unisrv.jp/
About pluszero Inc.
pluszero, Inc. is a company that aims to realize the next generation AI, the 4th generation AI, which overcomes the problems of the AI (3rd generation AI) centered on deep learning technology. We propose "Artifitial Elastic Intelligence (AEI)" as a concrete implementation of 4th generation AI, and are engaged in research and development of AEI. We aim to make all people happy by increasing the productivity of society as a whole through the development of AEI.
Company name: pluszero, Inc.
Company name: pluszero Corporation
Capital: 12,276 thousand yen
Representative: Yoshiyuki Ojiro, Chairman and CEO/ Representative Director
      President and COO Ryota Mori
Business description: Providing integrated solutions utilizing various technologies such as AI, natural language processing, software, and hardware.
      Development, maintenance, operation, and sales of solutions that integrate various technologies such as AI, natural language processing, software, and hardware.
      Development, maintenance, operation, and sales of integrated solutions utilizing AI, natural language processing, software, hardware, and other technologies, as well as outsourcing and related consulting services.
      and consulting services related to these businesses.