Seishindo Pharmacy to Hold Medical Health Seminar for Japanese in Thailand Medical Health Seminar to be Held on September 21 Lecture on Fertility and Quality of Fertilized Eggs
Free individual consultation with lecturers after the seminar
Seishindo Pharmacy Co. (Head Office: Ichikawa City, Chiba Prefecture; Representative Director: Yuichi Nishino; hereinafter referred to as "the Company"), which operates 20 kampo consultation pharmacies and acupuncture clinics in Tokyo and Chiba, will hold a medical health seminar for Japanese residents in Thailand on September 21, 2023 (Thursday). The medical knowledge and experience of Oriental medicine, such as Chinese medicine, Kampo medicine, and acupuncture and moxibustion treatment, cultivated in Japan, are attracting attention overseas.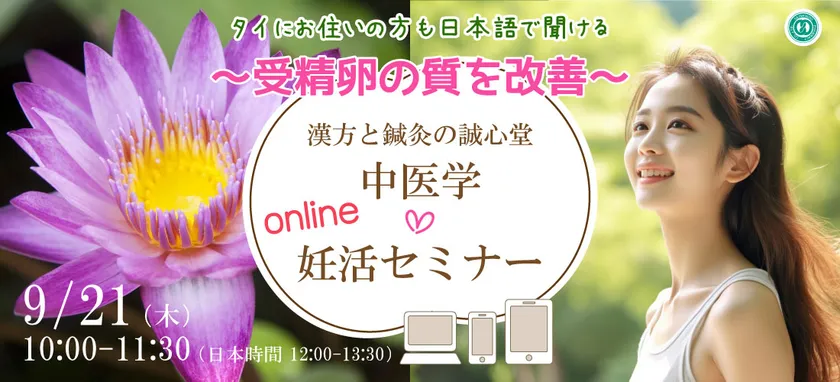 Background of Japanese Medical Knowledge Drawing Attention Abroad: Increase in the Number of Japanese Living Abroad
According to statistics from the Ministry of Foreign Affairs' Survey of the Number of Japanese Residents Abroad, the number of "permanent residents" who have moved their place of residence from Japan to overseas as of October 1, 2022, reached a record high of approximately 557,000, representing an increase for the 20th consecutive year. Including the number of "long-term residents" whose period of stay in Japan is three months or longer, a total of 1,309,000 people (as of October 1, 2022) are living abroad.
In this situation, Japanese medical knowledge is in high demand in terms of medical care and health, which is one of the concerns of living abroad.
Our experience in holding online medical seminars
We have been holding medical seminars for the general public and professionals since 2009. Since the Corona Disaster of 2020, we have held more than 60 online seminars.
One of our unique features is that we have a large number of experts in Chinese medicine, Chinese herbal medicine, and acupuncture, including Chinese physicians and international Chinese physicians. TCM is a medical license in China granted to doctors of traditional Chinese medicine who have mastered TCM and passed the Chinese national examination. We invite people who have been active as TCM doctors in China to Japan as "TCM advisors. We have the largest number of such advisors in Japan, and we are proud to offer top-class Chinese medicine treatment in Japan.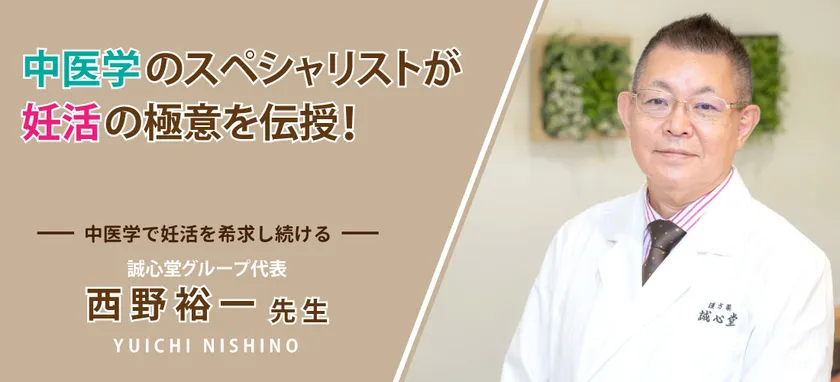 ■Offering medical health seminars for Japanese people in Thailand
We are pleased to announce that we will hold an online seminar for Japanese people living in Thailand with the cooperation of BLEZ ASIA Co.,Ltd. (Head office: Bangkok, Thailand; Representative: Naoki Iida), which provides Chinese medicine consultation services in Thailand. Our company will host and give a lecture from Japan, delivering the latest medical information. The theme of this year's seminar will be "quality of fertilized eggs," a topic of great need among the increasing number of people suffering from fertility problems. After the seminar, the lecturers will be available for free individual consultations to give advice on any concerns you may have. Because of the great distance between us, we have put in place a system to ensure that you can attend with peace of mind and receive the support you need.
▼ Seminar Instructors
Yuichi Nishino
Pharmacist, Acupuncturist, International Certified Chinese Physician Level A
Representative Director, Seishindo Pharmacy Co.
Director, The Japanese Society of Traditional Chinese Medicine
Director, Japan Society for Integrative Medicine and Reproduction
In 2019-2021, for 33 patients who were unable to conceive after 2 or more years of Western medicine fertility treatment, we achieved a 55% pregnancy rate after 1 year of Chinese herbal medicine and acupuncture consultations.
60% of pregnancies in 6-month Chinese medicine and acupuncture consultations (*2016 Portal Site Jineco Monitors)
▼ Seminar Information
Date: Thursday, September 21, 2023
Schedule for the day
*Showed in Thailand time (Japan time in parentheses)
9:50 (11:50 Japan time) Zoom venue opens
9:55 (11:55 JST) Announcement of precautions
10:00 (12:00 JST) Lecture starts
11:30 (13:30 JST) Lecture will end
After the lecture, online individual consultation with Dr. Nishino
Tool: Zoom Webinar (advance reservation required)
*Registrants will be contacted by e-mail with the URL to join the webinar on the day of the event.
*Please be assured that participants' names and videos will not be visible.
Participation fee: Free of charge
*Participation benefits are available (free consultation voucher for those who wish to learn more about your body)
Seminar Details
https://www.seishin-do.co.jp/kodakara/lp/thailand-seminar/
■Future Developments
As more and more people travel to and from overseas, there will be an increasing demand for reliable medical information, not only in Japan but also in other countries. We will continue to strive to disseminate correct medical information and be of service to those who are suffering from such problems.
Company Profile
Company name: Seishindo Pharmacy Co.
Head office location: 3-18-23 Minami-Gyotoku, Ichikawa-shi, Chiba
Representative: Yuichi Nishino, Representative Director
Establishment : March 1987
URL : https://www.seishin-do.co.jp/
Description of Business: Operation of pharmacies, sales of pharmaceuticals and quasi-drugs,
       Management of acupuncture and moxibustion clinics and osteopathic clinics, import and sale of cosmetics,
       Import and sale of cosmetics, and all business incidental to the above