Tactico, a Web Service for Investors in Japanese Listed Stocks Focuses on numerical calculation, ChatGPT, machine learning support and stock discovery
Lagarto Technology, Inc. (headquartered in Shinjuku-ku, Tokyo; Daisuke Okajima, President) has launched Tactico, a charting and screening web service for investors (mainly individuals) in Japanese listed stocks, on September 20, 2023. Tactico aims to help investors find stocks by providing the following three main features
Numerical calculation of historical data and visualization of the results through charting and screening
Stock commentary using ChatGPT
Similarity chart recognition through machine learning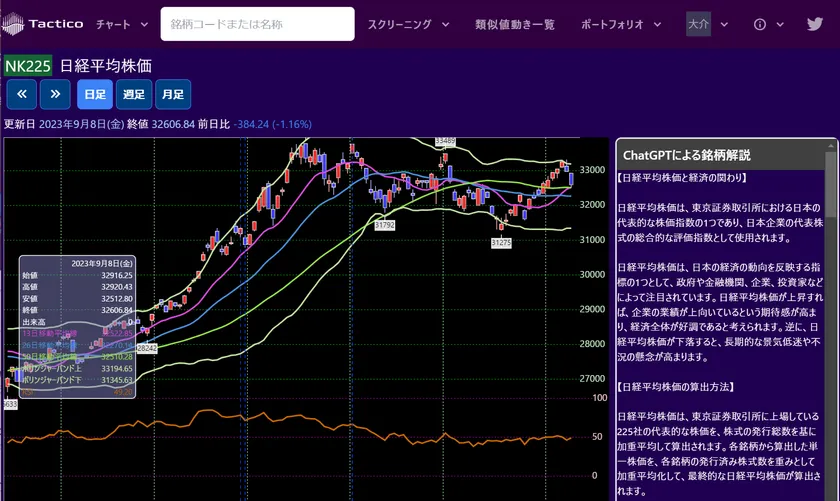 Tactico: https://www.tactico.jp/
Focus on the function of discovering new stocks
There are 3,899 listed companies in Japan as of August 31, 2023. For any investor, discovering the next promising stocks is a time-consuming task. Tactico supports stock discovery activities with the following two functions.
(1) Stock price chart display
This is a candlestick graph of past stock prices. This is a basic and important function, although it is not flashy, and is often used on other websites and in newspapers.
(2) Flexible screening engine for ranking stocks
Simple screening such as price increase ranking is supported by existing tools provided by securities companies, but Tactico has its own script language and engine to interpret the script. Tactico has its own scripting language and engine for interpreting it. The current release includes approximately 20 built-in screening conditions, but in the next version, users will be able to write their own scripts to achieve an extremely high level of flexibility.
(3) Portfolio function to group stocks
Groups of stocks can be created and saved, such as a group of stocks you are considering investing in.
In both cases (1) and (2) above, the charts of many stocks for the most recent three months can be viewed on a single screen.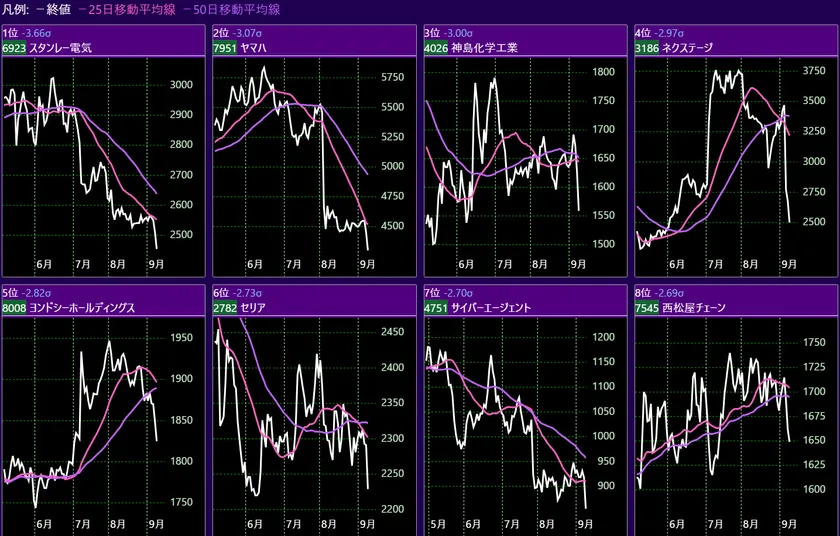 For stocks that are publicly traded, you can view screening results and portfolios created by other Tactico users by simply sharing their URLs on social networking sites. This can greatly contribute to the discovery of stocks that are not normally marked.
Commentary by ChatGPT
A rough description of each company and its performance information is output to ChatGPT and displayed on the chart screen. Furthermore, Tactico users can continue this conversation by asking questions to ChatGPT.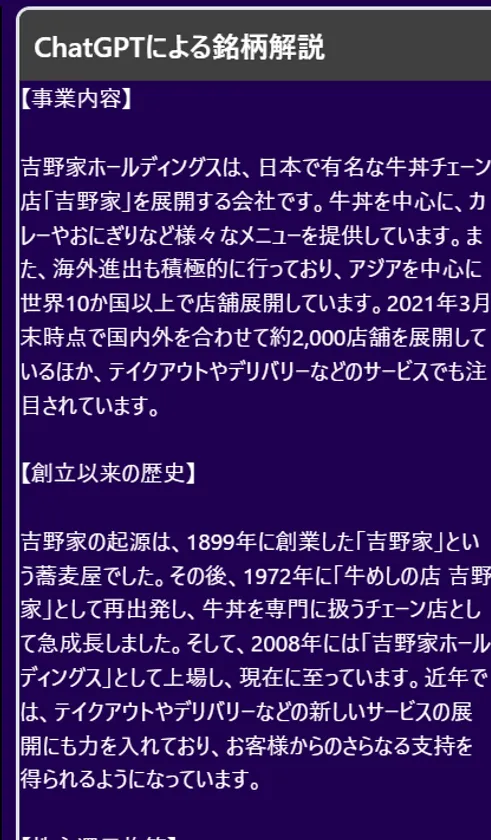 ■Similarity Chart Recognition by Machine Learning
Using machine learning technology, the system assigns a score to the price movements of different stocks in the past that are similar to "the price movement of the stock you are looking at until today," and displays the highest score on the chart screen, or lists the stocks with the highest similarity score across all the stocks in the chart.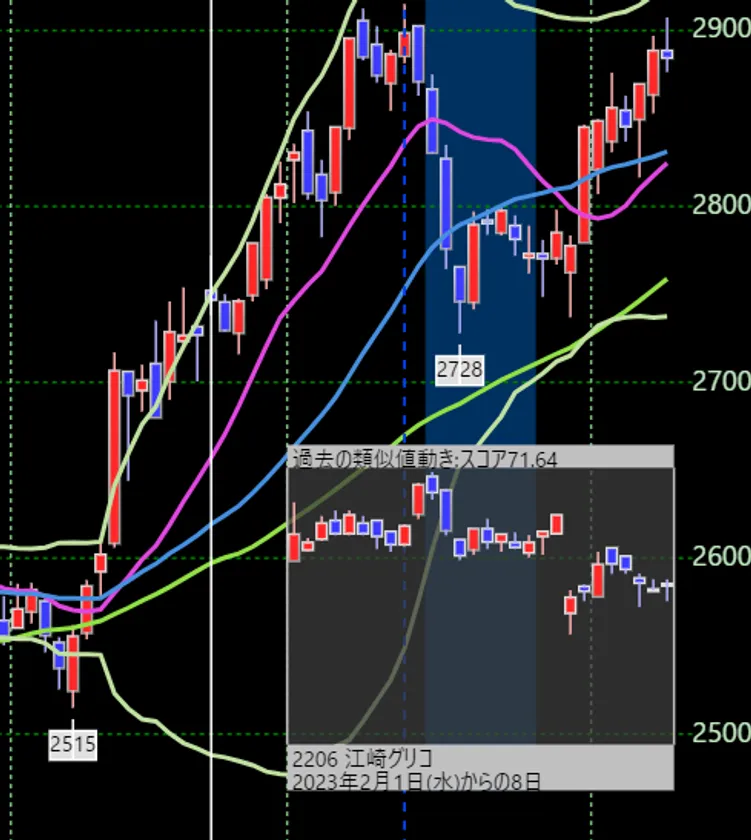 Similarity in the past does not guarantee that future stock price movements will follow the same pattern, but it does provide a certain level of reference. This also serves the purpose of discovering unknown stocks.
Background and History of Tactico
The predecessor of Tactico was a Windows application of the same name that was created and distributed by Daisuke Okajima, CEO of our company, as a personal hobby from 2003 to 2010. Although similar in functionality, Tactico has been renewed as a web application for the cloud era, and combined with new tools such as ChatGPT, it is once again a stock price analysis tool for investors.
Future Plans
Currently, all functions are provided free of charge, but in the future, we plan to separate the paid version from the free version. In addition, we plan to gradually expand the functionality of Tactico to support real-time data and stock markets outside of Japan, as well as to open up the script customization functionality described above, over the course of the next 2024.
Tactico's goal is to provide a tool that anyone can use to calculate and visualize data that can be calculated from historical stock price data and that is useful for trading.
■Company Information
Name : Lagarto Technology, Inc.
Location: 9-14 Haraikata-cho, Shinjuku-ku, Tokyo
Representative : Daisuke Okajima, President
Web site : http://www.lagarto.co.jp
X (former Twitter): @TacticoOkajima
Main Business: In addition to our product Tactico, we license FX (foreign exchange margin trading) tools to domestic and foreign FX firms.
        We license our product, Tactico, as well as FX (foreign exchange margin trading) tools to domestic and foreign FX businesses.