Orders for Original Hotel and Ryokan Hotel Clothes and Pajamas Favorable Iwamoto Textile's "Hotel and Ryokan Department" achieved 177% half-year sales compared to the same period of the previous year
~The number of companies doing business with the company increased by 100. Small-lot and made-to-order service Small-lot, made-to-order service" is also capturing the needs of small-scale upscale inns.
Iwamoto Textile Co. (Location: Kyoto, Japan; President: Yuji Iwamoto; hereinafter "the Company"), a 75-year-old manufacturer and seller of bedding products with its own factories in Kyoto and Shiga, is pleased to announce that its "Hotel and Inn Division" has reported strong semi-annual sales for the period from April to September 2023, up 177% from the same period last year.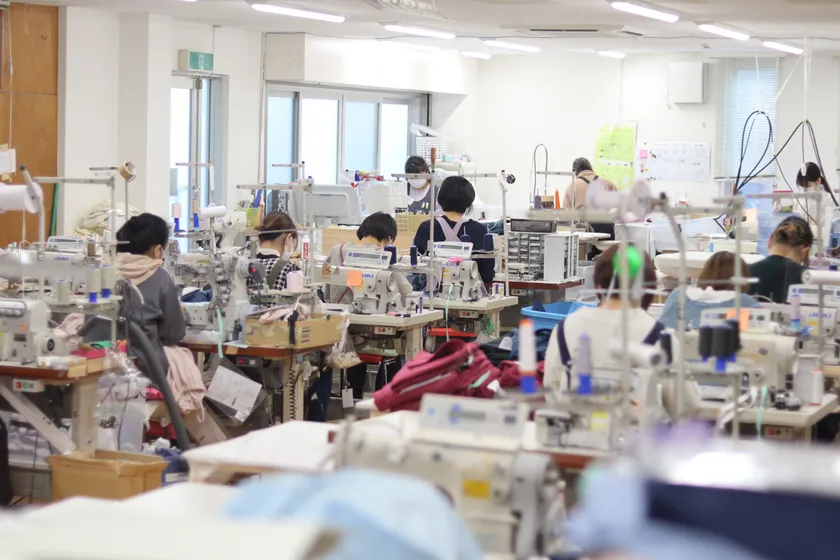 Iwamoto Textile BtoB specialized website: https://www.iwamoto-senni.co.jp/business_bedding/
Background of the strong sales performance in the "Hotel and Ryokan Section
The hotel and inn division of our business achieved semiannual sales of approximately 51 million yen from April to September 2023 (data compiled from March 21 to September 20, 2023). This represents 177% of the same period last year (approximately 28 million yen). Inquiries increased especially from May, with "wear" driving sales among others. The Company believes that the following three factors contributed to the strong performance.
<Factor 1: Recovery of the lodging and travel industry affected by the Corona disaster>.
Following the Corona disaster, the number of inquiries from "small luxury inns" to the Company increased as inbound demand recovered and the number of domestic travelers increased. As a result of hotels and inns searching the Internet for "original in-house clothes," the number of access to our website increased by 214% year-on-year, and we gained 100 new business partners during the year. Hotels and inns seeking differentiation through originality in particular tend to be more frequent.
For major textile companies, it is sometimes difficult to meet the needs of small-scale lodging facilities because their conditions require large-lot orders or high sample fees for prototypes. On the other hand, we have our own factory that can make custom-made products in small lots, and samples are available only at actual cost (or free of charge), making us very popular among hotels and inns with a small number of rooms.
<We have a wide variety of materials and designs, and our meticulous response to customer needs.
We are actively introducing new materials and renewing our product lineup. This has increased the number of product options available to customers, and has also allowed us to accumulate design experience and broaden the scope of our proposals, which we believe has led to our ability to respond to customer needs and win orders.
In addition, hotels and inns generally avoid natural fibers, which are difficult to maintain, for their pajamas and original housecoats, and instead use synthetic fibers, which are easier to clean. On the other hand, we use 100% cotton natural fiber, which is comfortable to wear, and some of our materials are wrinkle-proofed, making them easy to maintain, thus meeting the needs of both guests and facilities. We believe that one of the reasons for our strong performance is that we provide detailed support, including instructions on how to clean the garments if necessary.
<Factor 3: Increase in referrals from existing customers
We believe that one of the reasons for the increase in sales is that the number of referrals from existing customers has doubled as a result of the Corona disaster settling down and the opening of new facilities at hotels and inns, with which we do business.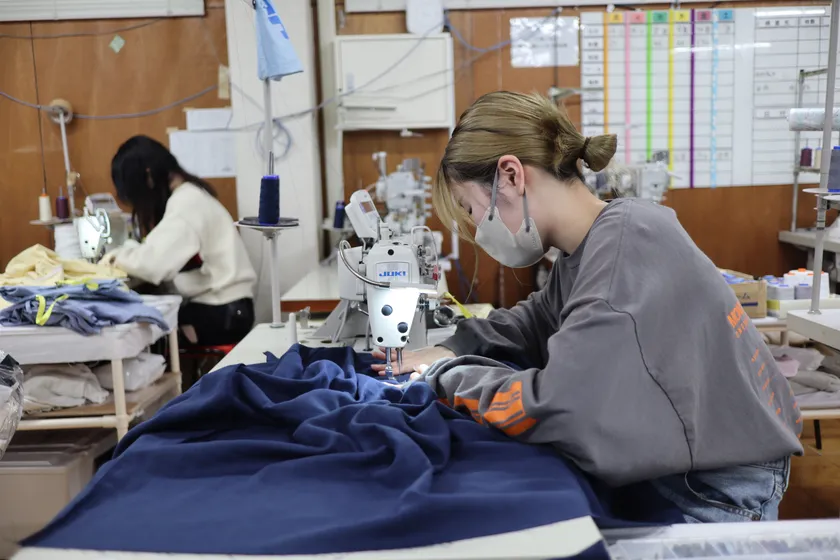 ■Introduction of Business Cases
<Case Study 1: Ento, a base where visitors can stay overnight at the Oki UNESCO World Geopark
Comment from Ento: We have received nothing but positive feedback from our customers, such as "It feels good on the skin and is comfortable to wear," and "It is soft and loose-fitting. Many customers purchase them as souvenirs. We are very satisfied with the attention to detail from fabric selection to fine-tuning the finishing touches.
Ento
Address: 1375-1 Fukui, Ama-cho, Oki gun, Shimane 684-0404
TEL : 08514-2-1000
Rates : From 16,150 yen/person (tax included)
URL : https://ento-oki.jp/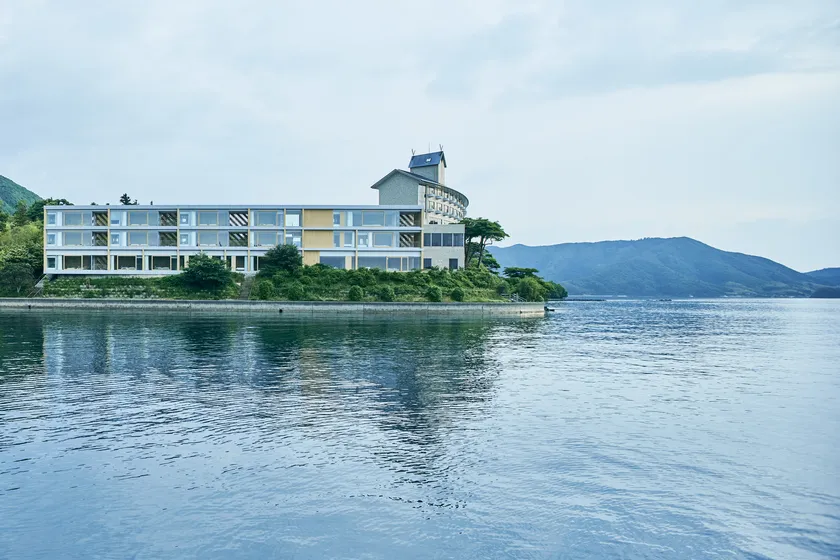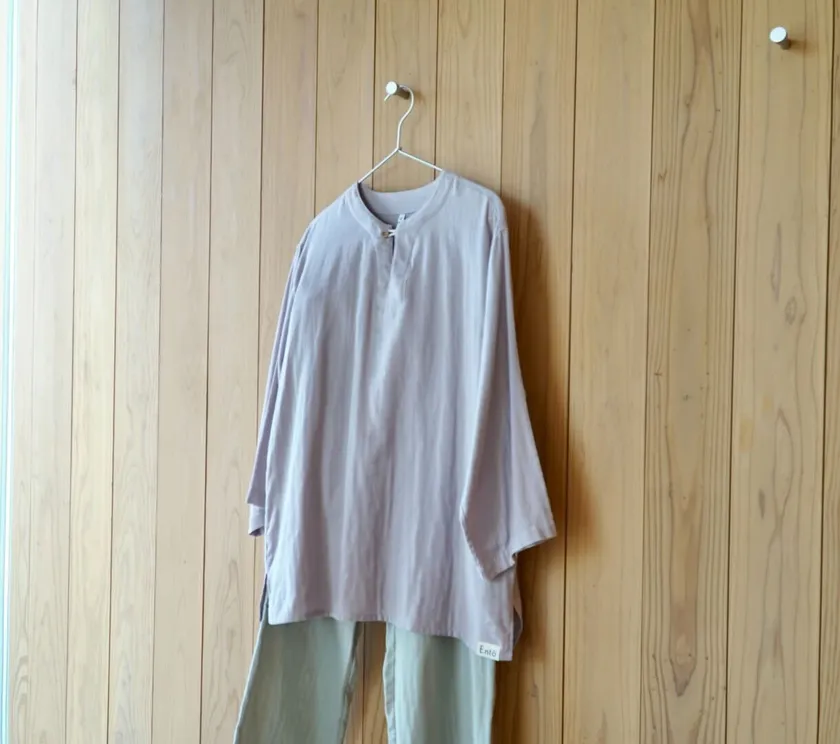 <Example 2: "MAYA", an inn in Zaimokuza, Kamakura, limited to one couple per night
Comment from Maya: We asked Ento to make pajamas for our guests, bed linens, and staff uniforms. The pajamas are very comfortable and so popular that our customers have asked us to purchase them for them. The sewing threads are thin and the tags are carefully made so as not to affect the comfort of the pajamas, so they are comfortable to wear even when they are in direct contact with the skin. For the uniforms, when we told them of our request, they were able to choose from a huge selection of fabrics and send us several different samples right away. They also made several pre-production samples for us, so we were able to place our order with peace of mind. The handwritten message that accompanies each delivery is also very touching.
MAYA
Address: 3-17-29 Zaimokuza, Kamakura, Kanagawa 248-0013
TEL : 0467-60-4020
Rates : From 272,250 yen (tax included) for 2 persons including breakfast
URL : https://mayakamakura.jp/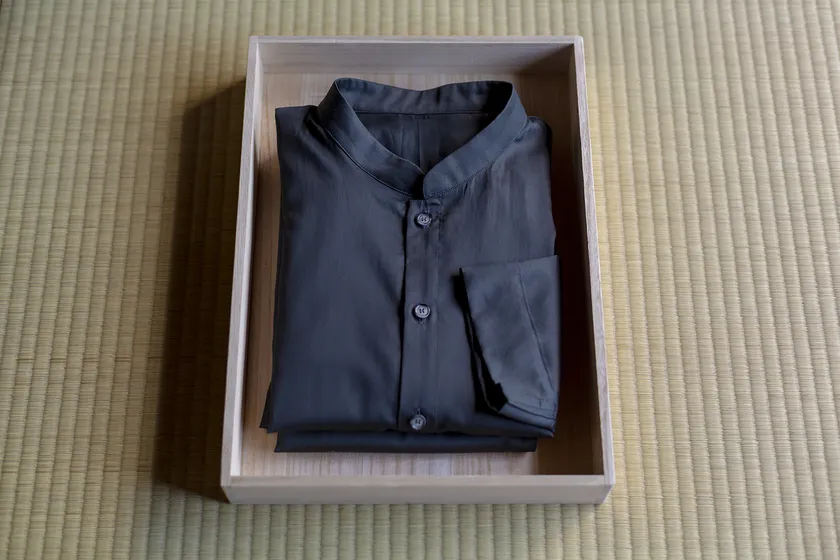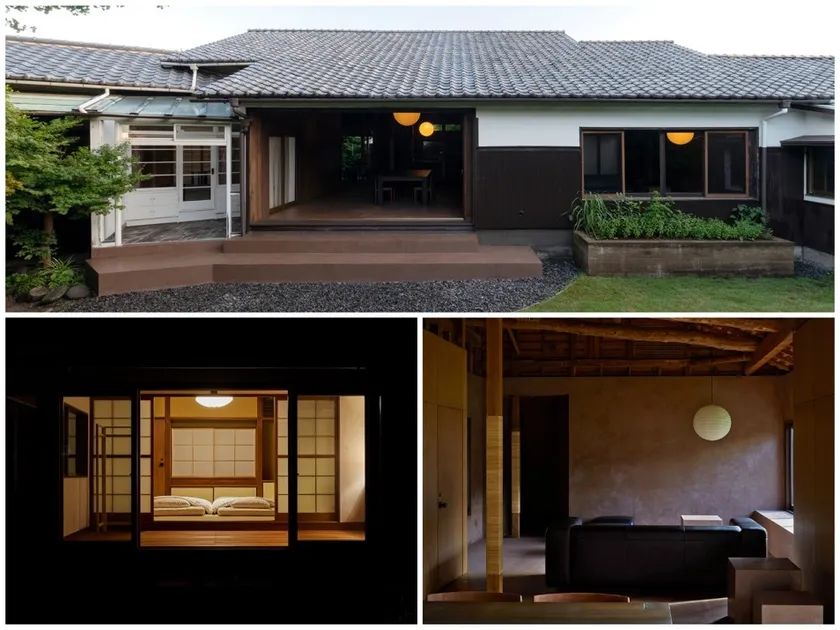 Future Business Development
In the future, we would like to focus on projects from facilities other than hotels and inns. So far, we have received requests for nap covers for nursery schools, sheets for treatment tables at esthetic salons, covers for sofas at comic book cafes, and sheets for transformable bed mattresses from furniture manufacturing companies. We are also actively working on pajamas for nursing care facilities, for which demand is expected to increase in the future, by taking advantage of our "small-lot & made-to-order" capability.
In addition to covers, pajamas, and futons for hotels and inns, we also manufacture and sell bedding and loungewear for the B-to-C market. In the future, the Company intends to strengthen overseas sales for B-to-C, develop new markets in the loungewear & innerwear field, and develop B-to-C brick-and-mortar stores.
About Iwamoto Textile Co.
Since its establishment in 1948 as Iwamoto Sewing Works and incorporation as Iwamoto Textile Co. Since then, we have continued to improve our quality and technology on a daily basis, aiming to create products that will truly satisfy, delight, and even impress our customers. Our factory enables quick delivery, size orders, and high-mix low-volume production, and our head office in Kyoto enables us to handle the entire process from planning to manufacturing to sales. With the smiling faces of our customers as our driving force, we will continue to pursue customer satisfaction and make improvements every day, with all of our employees working together with responsibility and sincerity. We will continue to pursue customer satisfaction and make daily improvements.
Company Profile
Company name: Iwamoto Textile Co.
Location: 76 Katsura Uenonakamachi, Nishikyo-ku, Kyoto-shi, Kyoto
Representative: Hiroshi Iwamoto, President and Representative Director
Establishment : 1948
Capital : 10 million yen
Business description: Manufacture and sale of bedding products, mainly futon covers