Quiet Luxury" is popular among young people A high-quality, ethical cashmere brand's pop-up store is now open!
"Quiet Luxury" is a trend around the world that emphasizes luxury and dignity by eliminating logos. Quiet luxury, which used to be the standard for wealthy people when choosing clothes, is now spreading to young people who are environmentally conscious. CASHMIKA, an apparel brand that uses the highest quality ethical cashmere from Mongolia, is attracting attention from women in their 20s and 30s. This fall/winter limited pop-up store will open at Isetan Haneda, Tamagawa Takashimaya, Isetan Shinjuku, and Ginza Mitsukoshi.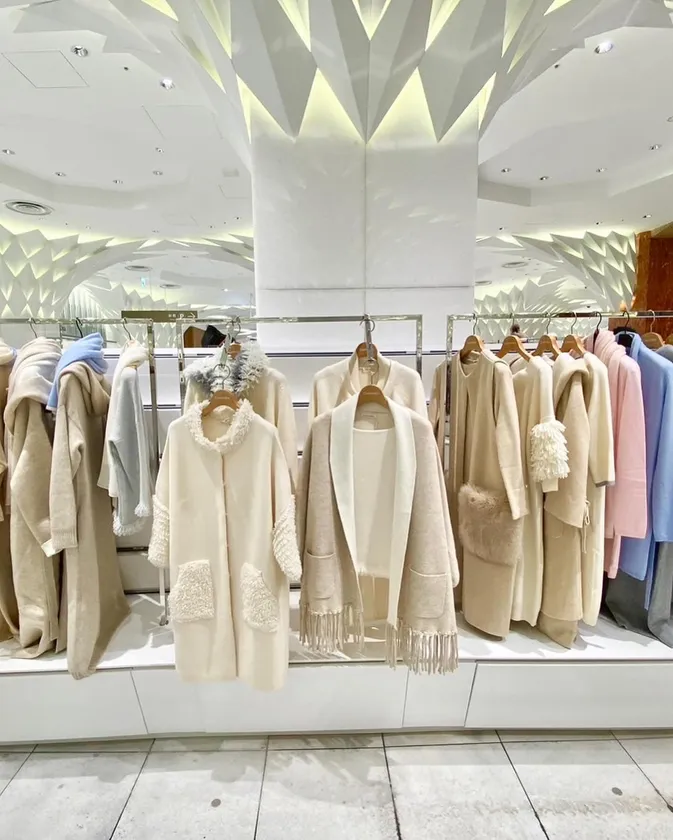 Toward a fashion in which people, not clothes, take center stage.
Quiet luxury is spreading around the world. It is characterized by a calculated silhouette, luxurious materials, and subdued colors and patterns, without brand logos or flashy designs. This style, once common among the super-rich, is now capturing the hearts and minds of many. It also fits in with the atmosphere of the times, where emphasis is placed on sustainability.
The desire of young people to choose clothes that can be worn for a long time and to be seen as someone who can make such choices has made quiet luxury a major trend. Rather than "fashion in which the clothes take center stage" that looks good on social networking sites with the eyes of others in mind, the consciousness of young people is changing to an essential trend in which "fashion in which the person takes center stage" is considered more attractive, in which the person wearing the clothes is comfortable, looks good in style, and chooses colors that are pleasing to the face. The trend is to add accessories and vintage brands inherited from family members, and to dress modestly to show a diverse and timeless individuality.
Ethical cashmere brands are attracting the attention of young people.
CASHMIKA uses the finest and most ethical cashmere. CASHMIKA is a truly quiet luxury brand that mixes beautiful silhouettes with playful designs and exudes a sense of presence and dignity. In addition, cashmere made by a rearing method friendly to both the earth and animals is used. The designer himself visits Mongolia every year, so he is close to the producers. By enjoying fashion, you can support the lives of Mongolian nomads and local people working in factories. The top 45% of Mongolian cashmere is the finest, and the luster and feel of the material is exceptional.
In addition to the wealthy madams who have been the main customer base up to now, the number of younger generation customers has been increasing over the past year. One office worker who bought a scarf after hesitating about whether she would like it or not, says, "The feel of the scarf soothes me," and now enjoys buying one item each season to add to her office wardrobe. The well-thought-out silhouette and subtle color palette will add dignity to anyone's outfit, no matter what their body type.
Cashmere brings out a dignified beauty.
One of our customers commented, "I have more opportunities to go to work, and now I am required to wear something with a sense of decency. Just by wearing it, I am wrapped in warmth and softness, and I am happy to feel rich and relaxed, like a celebrity from abroad. (20s female)" "I often go on business trips overseas, and the warmth of cashmere soothes me when I am on the road. A one-piece dress with a beautiful silhouette that can go straight to dinner with the addition of accessories gives me a classy look like the fashion of the imperial family. (It is a dress with a beautiful silhouette that can be worn to a dinner with accessories.
Designer Mika Onoda says, "CASHMIKA is a brand that offers a blissfully comfortable experience. The silhouettes have been carefully adjusted over and over again to ensure that every body type looks beautiful. We want you to experience the warmth of being wrapped in the embrace of cashmere, and to rediscover the dignified beauty of your own self in the mirror. The timeless design made of the finest cashmere, which never loses its sheen, will last you for a long time."
CASHMIKA products sales page: https://cashmika.official.ec/
Outline of CASHMIKA limited time pop-up store
The new one-piece dress with a collar that can be worn in two ways (front and back), a classic sweater with a beautiful V-neck from the stand-up collar, and other accessories such as scarves that add class to an outfit without the need for technique will also be available.
November 15 (Wed) - December 5 (Tue) ISETAN Haneda Store Ladies Terminal 1
November 15 (Wed) - November 21 (Tue): Tamagawa Takashimaya Department Store, 2nd floor of the main building, Salon Le Chic Select
November 22 (Wed) - December 5 (Tue) ISETAN Shinjuku Main Bldg. 1F ISETAN LEAF
December 13 (Wed) - 26 (Tue): 4th of GINZA, Mitsukoshi Ginza, Main Building, 4th floor