<3,640% of the total amount achieved by Makuake HUBATH Washbasin Hair Catcher" is now available on Rakuten Ichiba!
Sinkatec Corporation (Location: Higashi-Osaka City, Osaka; President: Tsuneo Yamada), a household goods manufacturer, began selling HUBATH Washbasin Hair Catcher, a dramatic solution for cleaning washbasin drains, on the Rakuten market on October 27, 2023. This product is a revolutionary washbasin drain goods that has achieved 1,756 purchasers and 3,640% achievement rate on Makuake.
Product Features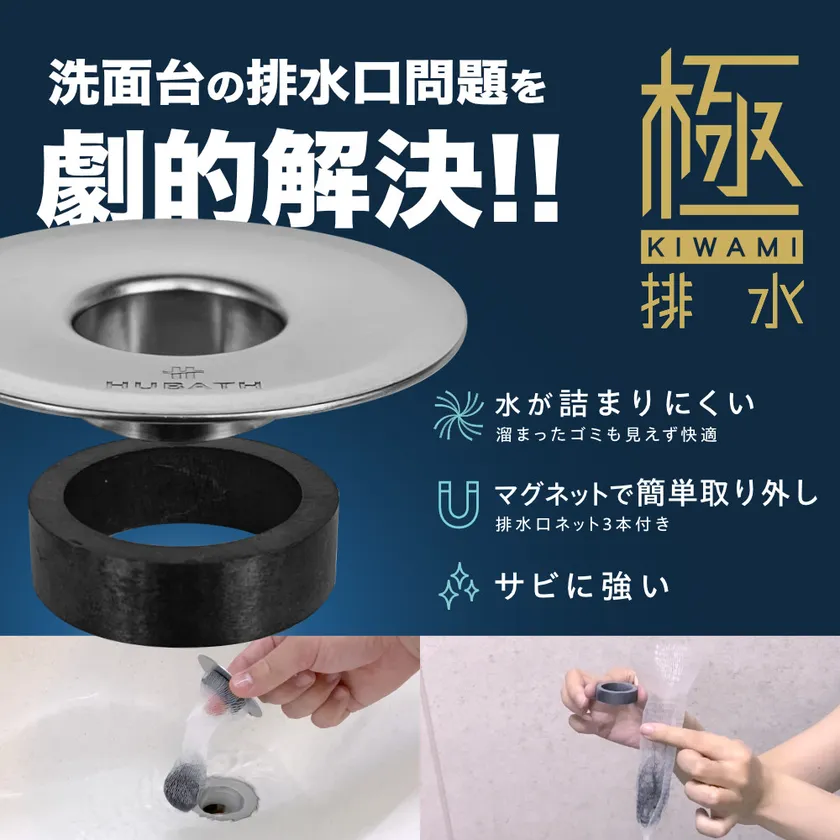 The washbasin drain problem is a source of discomfort and frustration.
Many people have had a bad experience with washbasin drains that overflow at the drop of a hat.
HUBATH Washstand Hair Catcher" was developed to solve this problem.
The HUBATH Washbasin Hair Catcher is a product that replaces an existing faucet by attaching a drain net.
It uses a magnet system to solve the problems of clogged hair and overflowing water, troublesome cleaning, and frequent replacement of existing drain plugs, and has achieved unprecedented drainage performance.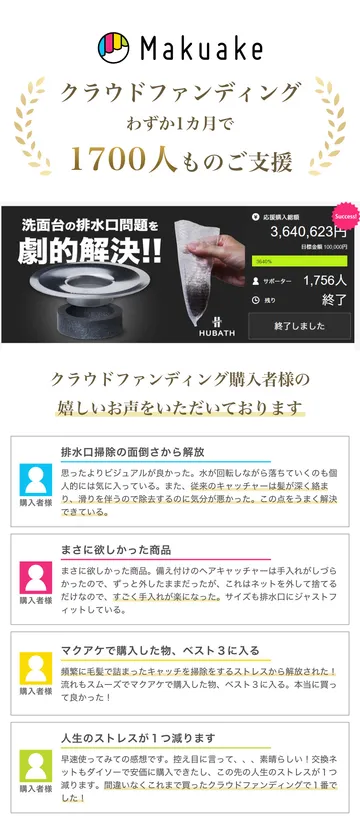 This product was first released on the "Makuake" website.
It has been highly evaluated by supporters who have purchased the product.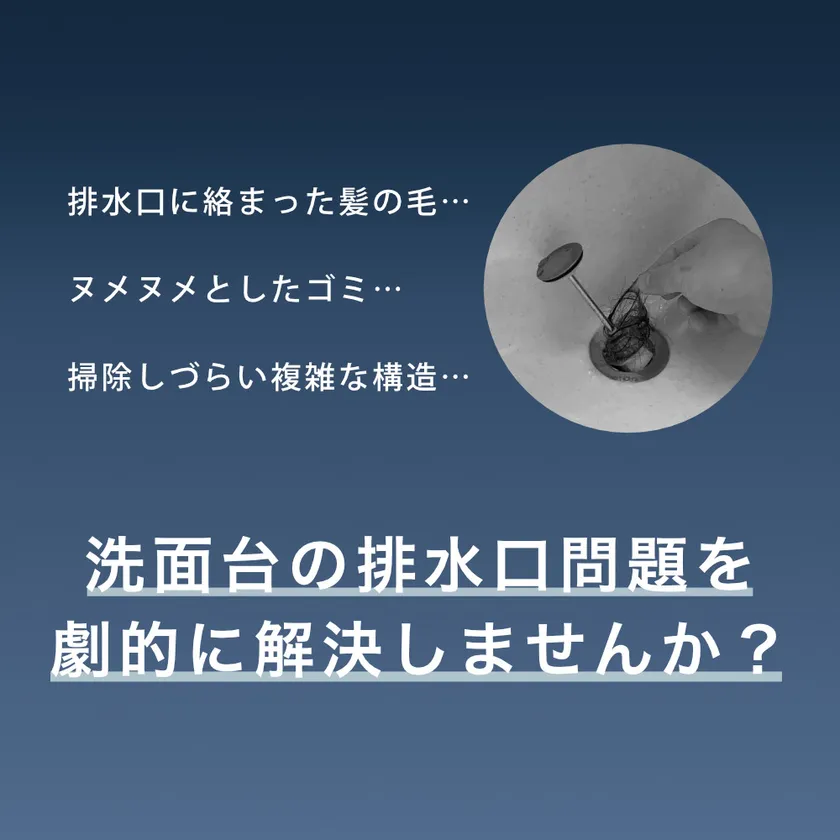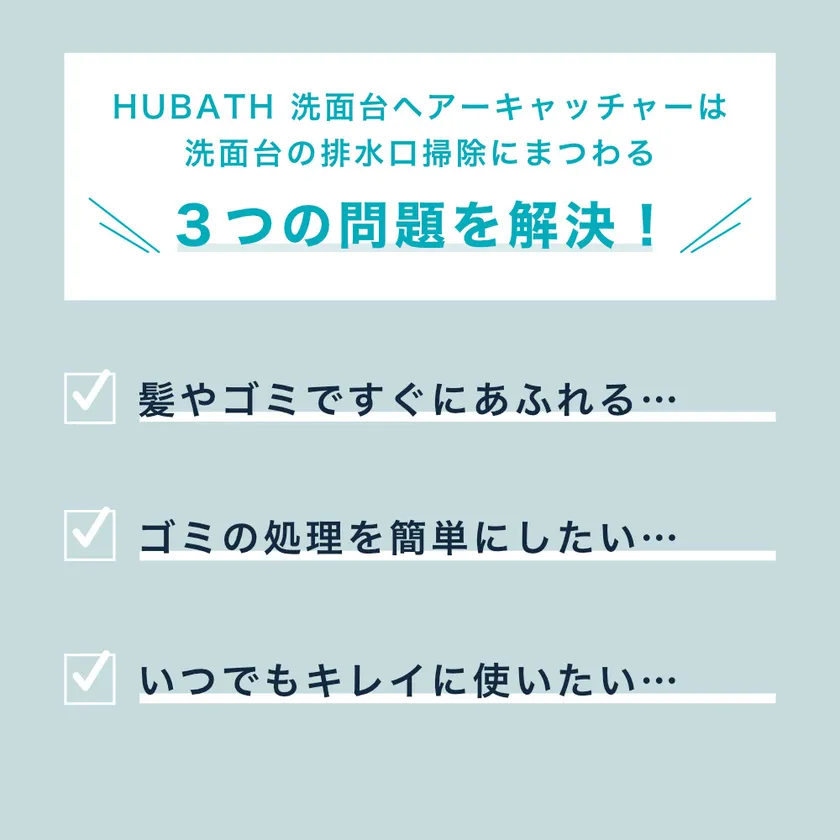 HUBATH Washbasin Hair Catcher" solves three problems associated with washbasin drains.
(1) Overflows quickly with hair and debris...
→The frequency of trash cleaning is drastically reduced because it does not overflow immediately!
(2) Easy trash disposal...
→Easy to dispose of waste by simply throwing away the drain net with the magnet detachable type!
(3) Want to use it clean all the time...
(3) Want to use it clean all the time... → "Rust-resistant" The use of special stainless steel makes it resistant to rust!
What is so great about "HUBATH Washstand Hair Catcher"?
Please take a look at the specifics.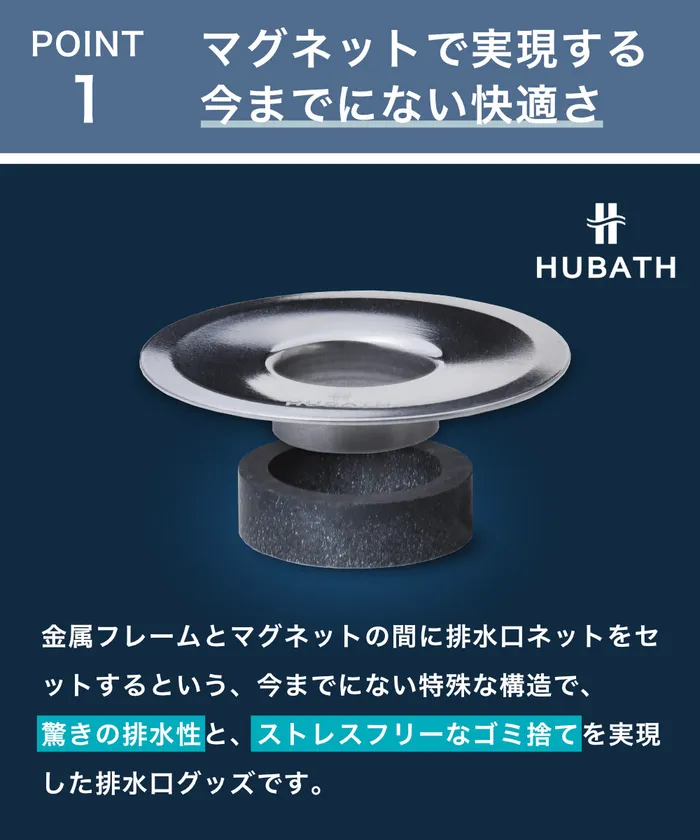 HUBATH Washbasin Hair Catcher is a new product developed based on an unprecedented idea.
It is a next-generation drainage outlet product with a structure that sets a drainage outlet net between a metal frame and a magnet, which was unthinkable in drainage outlet products up to now, and realizes not only threatening drainage performance but also easy waste disposal.
Patent pending.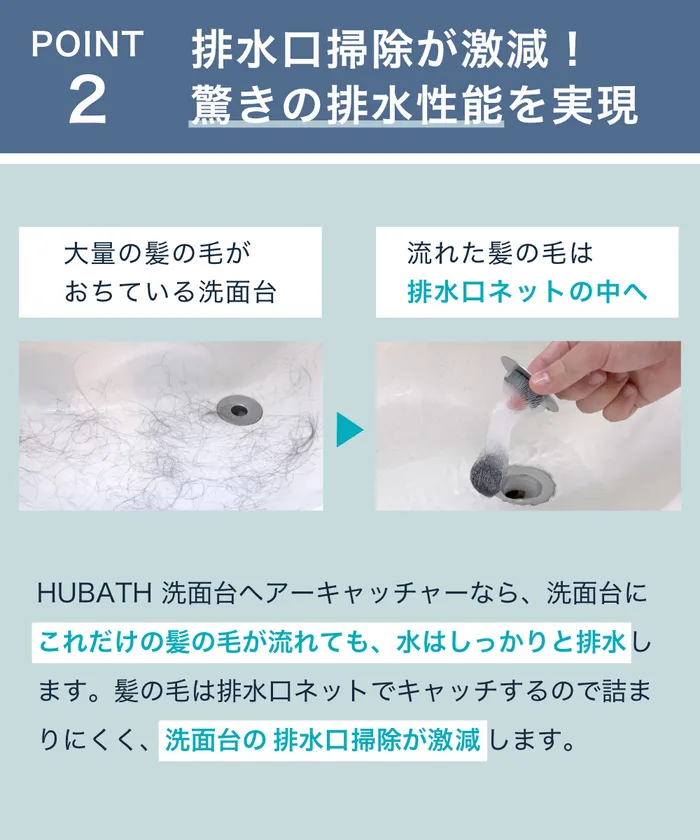 There are many washbasin drain goods available, and although we have tried many different types, they all quickly accumulate debris and require frequent cleaning.
However, "HUBATH Washstand Hair Catcher" solves this problem by achieving overwhelming drainage performance.
Thus, the "HUBATH Washstand Hair Catcher" system can store a large amount of hair and debris while maintaining unparalleled drainage performance.
How does this change the number of times you throw out the trash per month?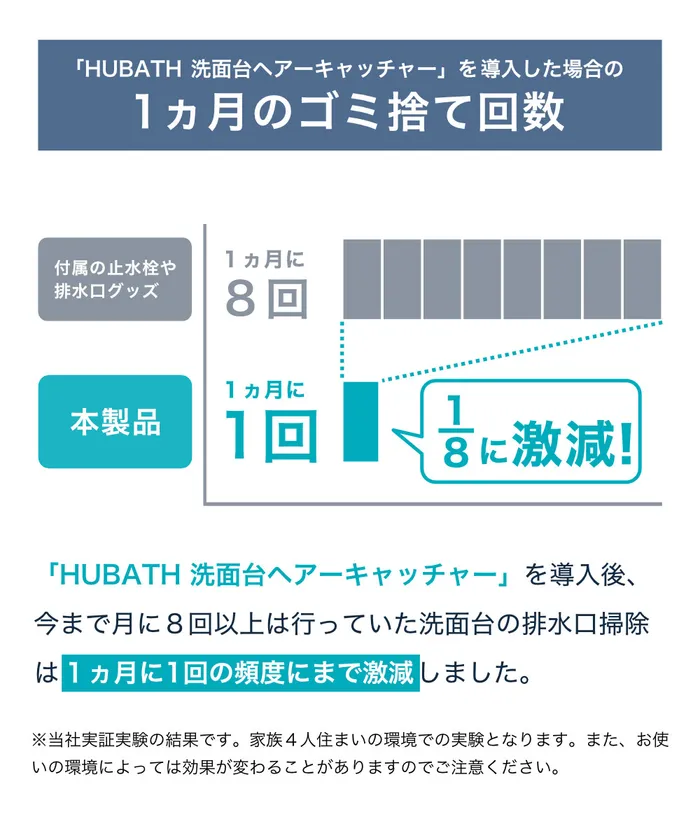 Before installing the HUBATH Washbasin Hair Catcher, we had to clean the drain 8 times a month, but after installing it, the frequency was drastically reduced to once a month.
This is the result of our demonstration test. Effectiveness may vary depending on your environment.
In this way, the introduction of the "HUBATH Washstand Hair Catcher" not only reduces the frequency and frequency of cleaning, but also greatly extends the time it takes to dispose of hair and waste, thus drastically reducing the time and burden of drain cleaning.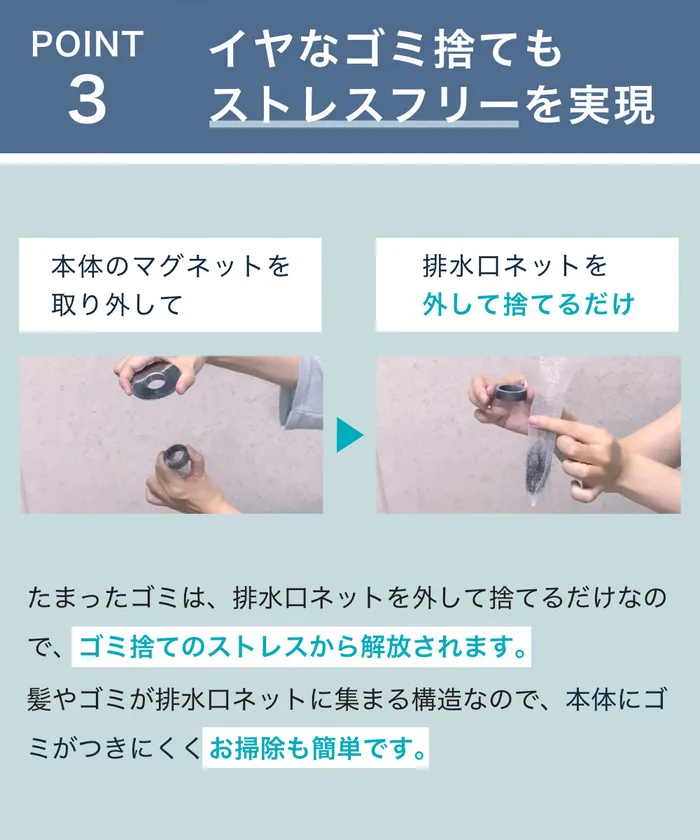 We have also focused on garbage disposal.
This is because even the best drainage performance will not solve your problems if garbage disposal remains a hassle.
The "HUBATH Washstand Hair Catcher" makes waste disposal easy by simply storing waste in the drain net and disposing of it.
To remove the drain net, simply remove the magnet from the metal frame body.
After the magnet is removed from the metal frame, the entire drain net is simply discarded, making disposal very easy.
Because the HUBATH Washbasin Hair Catcher only replaces the drain net, it is not only easy to dispose of waste, but also economical in terms of running costs.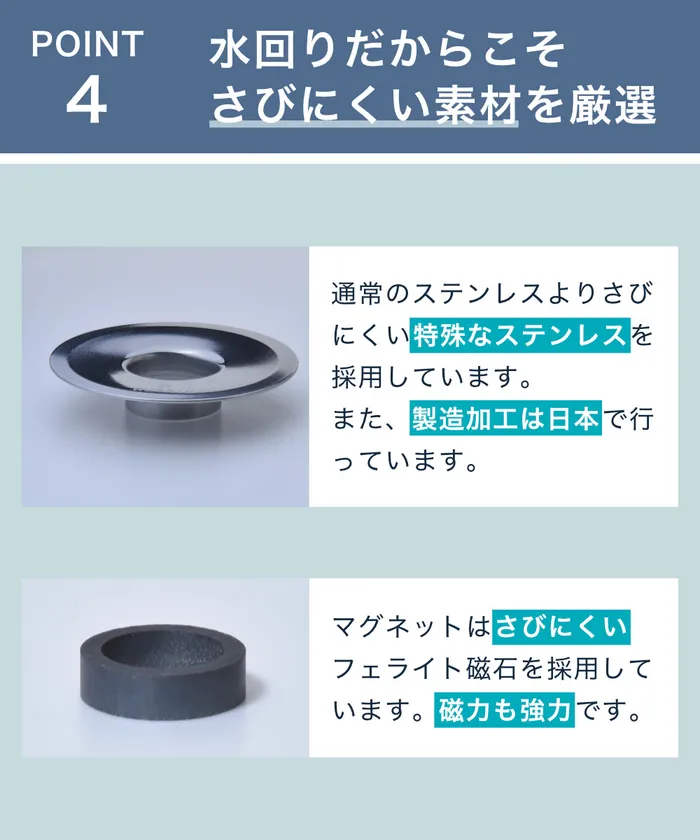 Because it is used around water, we want to use it cleanly.
Rust is the biggest concern for metal products used around water.
Although the frequency of cleaning is drastically reduced and the disposal of waste is easy, it would be a real shame if they become dirty due to rust.
This product is made of special stainless steel, which is resistant to rust and can be used clean at any time.
You may also be concerned about rust on the magnets.
The magnets of "HUBATH Washstand Hair Catcher" are made of rust-resistant ferrite magnets, so they can be used clean anytime.
The "HUBATH Washstand Hair Catcher" solves these three problems.
It is a next-generation drain product that dramatically solves the problem of washbasin drains.
We hope that those who have trouble cleaning their washbasin drains will try this product.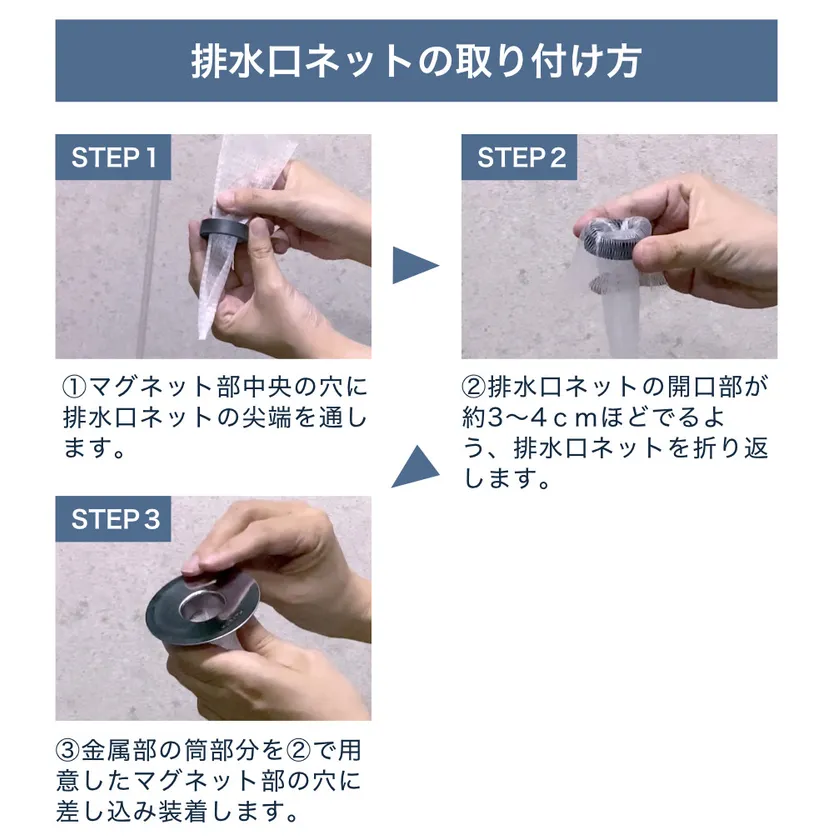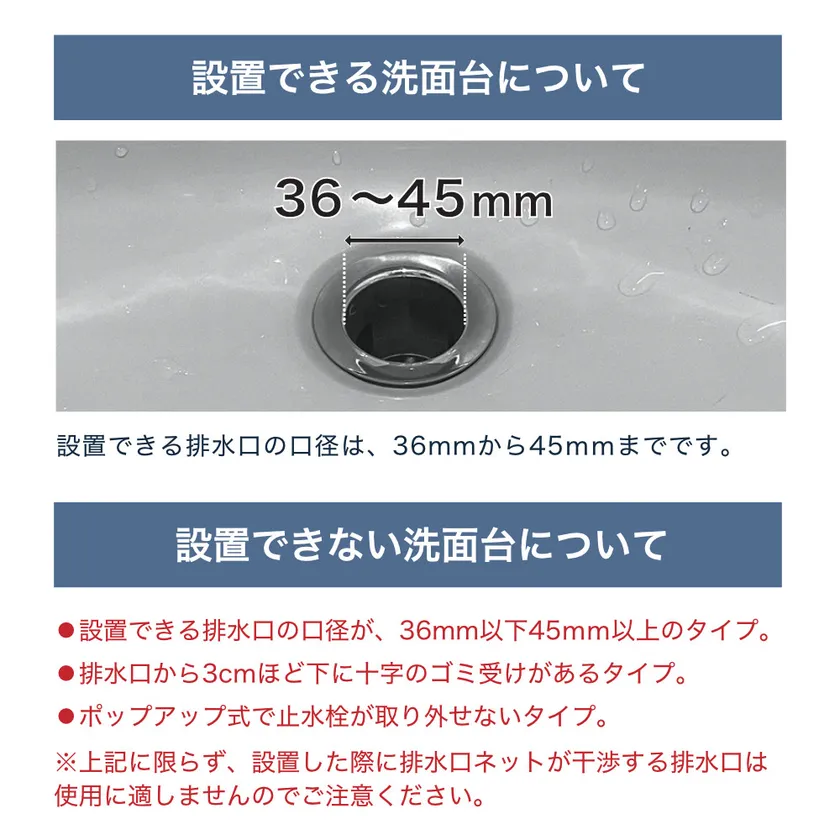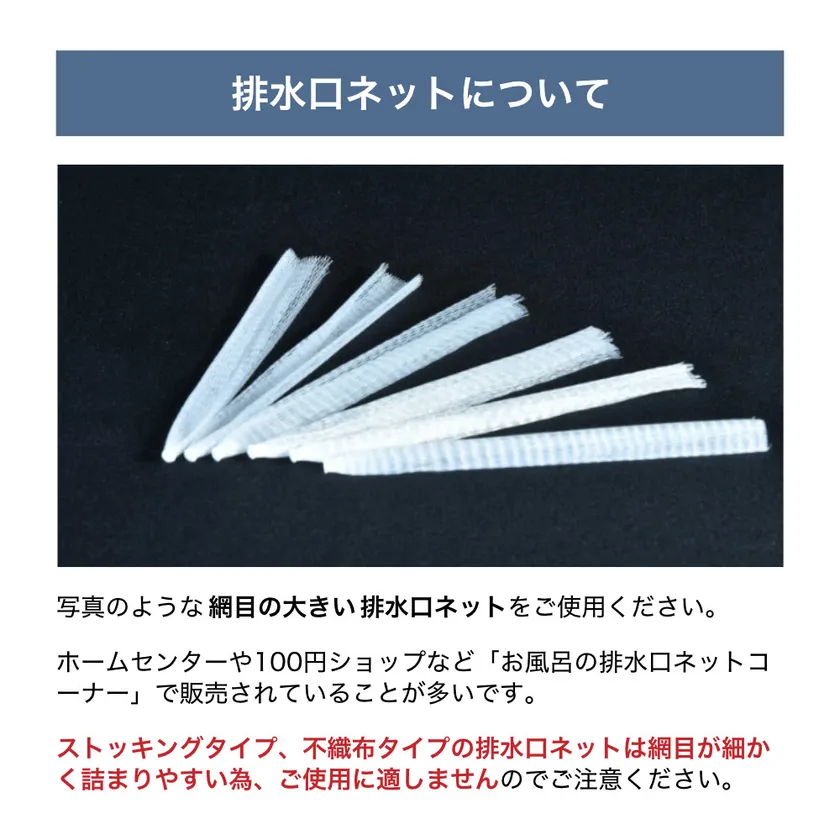 Makuake link : https://www.makuake.com/project/hubath/
Link to sales destination : https://item.rakuten.co.jp/sinkatec/hu_shair_catcher/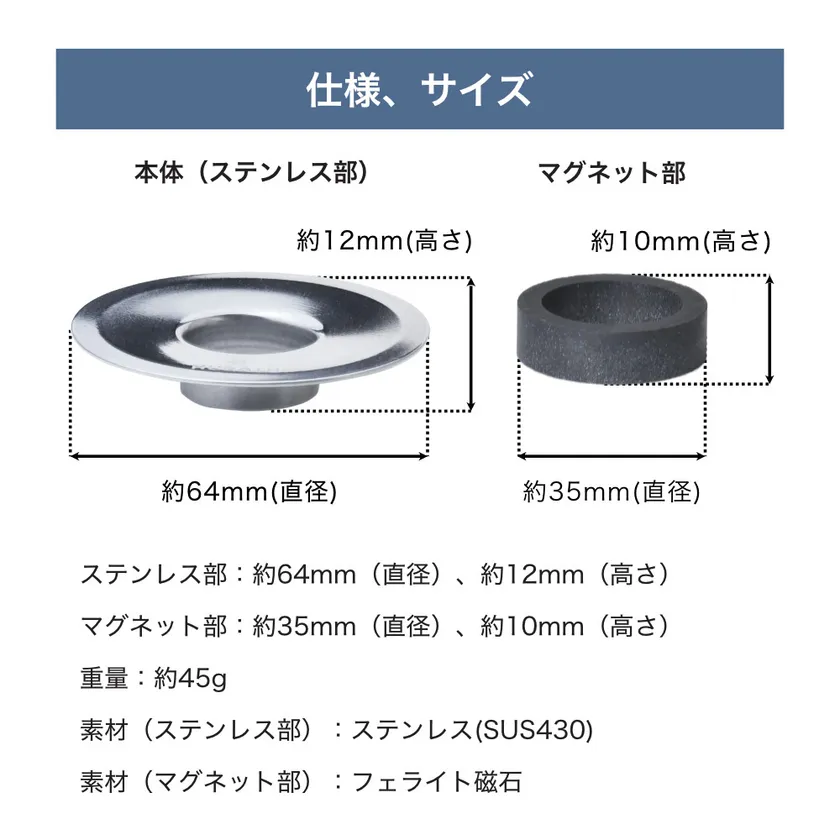 ■Product Specifications
Item : Hugh bath and washbasin hair catcher
Weight :Approx. 45g
Size :Exterior approx. 64mm x height approx. 12mm
Material :SUS430 (stainless steel part), ferrite magnet (magnet part)
Company profile and contact information
Company name: SHINKATEC Corporation
Location: 2-8-1 Kishidado-nishi, Higashiosaka-shi, Osaka 577-0848, Japan
URL : http://sinkatec.co.jp/
TEL : 06-6728-0135
Fax: 06-6729-2122